Los Angeles power pop legend, Paul Collins (The Nerves, The Beat) brings his skinny tie rock and roll pop swagger to SLO Brew this Sunday, June 14th. In addition, Boo Boo Records and SLO Record Swap will be setting up a small pop-up shop of used LPs for beforehand from 5pm to 7pm. Come out, grab a happy hour beverage, bring us a LP to play or just leaf through some fresh used vinyl. Admission for the record swap portion of the afternoon is FREE!
PAUL COLLINS: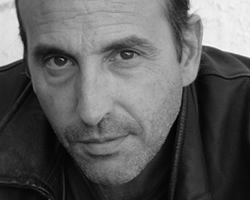 An important early figure on the Los Angeles power pop scene, Paul Collins was a key member of two bands that anticipated the "skinny tie band" explosion of the late '70s and early '80s, the Nerves and the Beat. In 1974, Collins met like-minded songwriters Peter Case and Jack Lee, and they formed a pioneering power pop band called the Nerves. Playing fast, ear-catching pop songs while wearing matching pink suits, the Nerves had more than a bit of the street energy that would later manifest in Los Angeles' early punk movement, and like the punks, the Nerves made their own opportunities when L.A. clubs didn't know what to make of them. The Nerves booked their own shows, did a nationwide tour of small venues on their own dime, and in 1976 put out a four-song 7″ EP on their own label, with Blondie having an early hit with a Nerves cover, "Hanging on the Telephone."
By 1978, hooking up with bassist Steve Huff, former Milk 'n' Cookies drummer Mike Ruiz, and guitarist Larry Whitman, Collins formed the Beat, whose tight, wiry hard-rockin' pop tunes picked up where the Nerves left off. The Beat landed a management deal with West Coast rock powerhouse Bill Graham and a record contract with Columbia, releasing their first album (simply called The Beat) in 1979. While reviews were positive, for the most part American radio was still closed to "new wave" bands.
Compared to the Knack, then the rulers of California's pop scene, the Beat were a lot more fun to listen to and seemed to actually like women, compared to the Knack's arch misogynist Doug Fieger. The Beat's 13 cuts are full of hooky snaps, especially "Rock N Roll Girl," "Walking Out on Love," and the shoulda-been-a-hit "Don't Wait Up for Me Tonight," and Collins' and Larry Whitman's guitars sing out with passionate energy.