Boo Boo Records has been in business for over forty years in San Luis Obispo County. The formula for our success ultimately comes down to one thing… We offer the highest level of customer service available. This, along with our superior knowledge, is something that one cannot find in the big box discount stores or internet file sharing sites. What we offer our customers is a fulfilling experience when they enter our store.
Boo Boo's founding partners, Ed Taylor and Glenn Forbes, met almost accidentally in 1974 through their wives' high school friendship. Forbes decided he wanted out of the big city, so he retired from the secure employment of PacBell in southern California. He then headed north with his family. Independently, Taylor took a leave of absence from his teaching career at Blair High School in Pasadena, CA. He and his wife headed up the coast to find a healthier place to live and work. Two weeks after Forbes and Taylor left southern California, they met coincidentally in Pismo Beach.
They spent the week discussing their venture and plans. The Forbes' plan was to settle in Oregon, while the Taylor's had originally targeted Santa Cruz, CA. After much debate, they soon decided that San Luis Obispo county offered the type of environment they sought. After a few days of negotiating, Boo Boo's was founded with an original investment of only $700.00!
With only the desire to work and no business background, Taylor and Forbes worked the local swap meets for the next four months. They sold used records and collectible items. Then, in December of 1974, they decided to open a retail store to sell their used records, their wives' artwork, and collectibles. They had no idea what the future had in store for them. There were four other viable stores in San Luis Obispo; two independents and two chains. Boo Boo's opened as a quiet alternative in the then, "dark side of town". The store was adjoining a low income hotel and adjacent to the railroad station. The original size of the store was only 300 square feet! In the next year, new records replaced most of the artwork and antiques. A line of paraphernalia was added, and Boo Boo's was becoming the "underground" record store near the railroad station".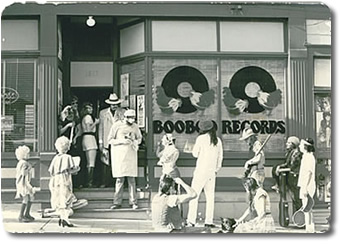 Taylor and Forbes had to use most of their savings to keep the store afloat. But eventually the business grew, and in 1976 they opened a satellite store in Grover Beach, just twelve miles south of San Luis Obispo. For the next four years, Boo Boo's struggled to stay alive while the partners gained more experience in the retail record industry. After five years of growth and struggle, Taylor and Forbes moved from their modest location of 800 square feet (they'd expanded from the original 300 sq. ft. over the 5 yr. period) to a downtown storefront two blocks from the San Luis Obispo Mission. This was a much higher profile portion of downtown known as the "Historical Section".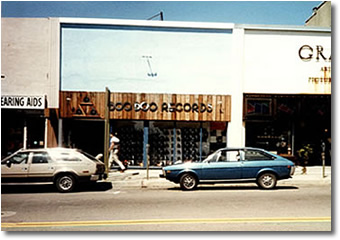 After a few years of growth and an increase in the number of employees, Mike White became the manager of the San Luis Obispo store. His passion and organization streamlined the work started by Taylor and Forbes. In 1986, Mike White was invited to become an active managing partner in Boo Boo Records. Seven years later, another former employee, John Huffman, was also brought on board as a partner.
The San Luis Obispo store has grown to encompass 5,000 square feet of the 900 block on Monterey St. In the late 1990's Boo Boo's expanded their offerings to include music and film on DVD. This expansion enabled the store to become a complete entertainment media emporium. In 2006 an internet arm was launched to locate and sell hard to find CD's, DVD's, & Vinyl. The internet business trades under the name Boo Boo Media and is active on Amazon, Half.com, eBay, and Gemm.
2014 Addendum
…as Boo Boo's heads towards its 40th anniversary this Dec, 2014, here is an addendum to our timeline:
In 2007, after 32 illustrious years serving the South County, the Grover Beach location closed, allowing all resources to be concentrated on the flagship location in San Luis Obispo, most important transplants being Grover Beach store employees Frank Hayes and Ryan East, who have become indispensable to the SLO operation, and Grover store manager, Craig Junghandel, who has carried on as webmaster and key liaison to our increasing website presence.
In June, 2010, co-owner John Huffman, after 3 decades in the music business, left to embark on what has become a highly successful 2nd career in e-commerce.
Mike White, after 32 years at the store, 24 of them as a partner, took over as sole owner and continued guiding the store into the next chapter of what a modern record store can be. With the help of a veteran staff, highlighted by long-time manager Malik Thorne, as well as the aforementioned Frank and Ryan, music guru Fred Friedman, 20 year vet Todd Young, 'first employee hired' Karen Wilkins manning the books, 'younger' music experts Miguel Avila and JT De La Torre, and on-line wizards Dustin Lehman and Bryant Barodte, Boo Boo's moves forward by further adding to an already diverse product mix which now includes a more comprehensive selection of books and apparel for all ages.
In addition, Boo Boo's continues to offer unique, iconic 'lifestyle' gifts while continuing to expand on the best selection of new and used Vinyl, CD's and DVD's. Vinyl, in particular, has continued to enjoy a renaissance and has surprised pundits by bringing in many new young music fans eager to experience this revered format on its rightful march toward renewed relevance.
…Stay tuned!