To commemorate our storied 40+ year run in San Luis Obispo, we've partnered with Just Looking Gallery and artist Steve Thomas to bring you a series of limited edition, individually-numbered giclée art prints.
Small Prints (12″ x 18″)
500 S/N Giclée on paper. Available framed or unframed. Price: $195*/$150
Medium Prints (24″ x 36″)
150 S/N Hand-Embellished Giclée on Stretched Canvas. Price: $695
Jumbo Prints (40″ x 60″)
30 S/N Hand-Embellished Giclée on Stretched Canvas. Price: $1750
These limited edition prints are available to purchase in-store or online. We currently have them on display in our front window, so stop by and visit us if you want to see these beauties in person.
Shipping is $30 for the small prints and $50 for medium and large sizes.
*Price for the small framed print is $200 due to additional S&H fees.
About the Artist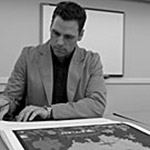 Canadian native Steve Thomas was born and raised in southern Ontario. Thomas went to school in Ohio for informational graphics and started working in the art department at a newspaper in Pittsburgh. He met his wife, a fellow Canadian, while in the 'Burgh and moved to the Twin Cities of Minnesota. Steve Thomas worked for another newspaper there creating graphics and illustration before switching over to the online publication. Working as a freelance illustrator, Steve's commercial work has paired him with Disney, Lucasfilm, Marvel, The Muppets, Hasbro and Star Trek. Heavily influenced by the Golden Age of Illustration, Steve Thomas' vintage 1930's style posters capture the beauty and unique nature of California's Central Coast.