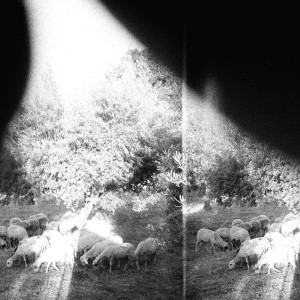 Come into the shop to pre-order the new GYBE and we'll make sure we have a copy of the new album reserved for you and any bonus promo materials that we can find.
GODSPEED YOU! BLACK EMPEROR (GYBE) returns with their new album, Asunder, Sweet And Other Distress, which clocks in at a succinct 40:23 and is arguably the most focused and best-sounding recording of the band's career. The group slowly and steadily put the new album together through late 2013 and 2014.
This mighty slab of superlative sonics is shot through with all the band's inimitable signposts and touchstones: huge unison riffage, savage noise/drone, oscillating overtones, guitar vs. string counterpoint, inexorable crescendos and scorched-earth transitions.
Asunder, Sweet And Other Distress finds Godspeed in top form; a sterling celebration of the band's awesome dialectic, where composition, emotion and 'note-choice' is inextricable from an exacting focus on tone, timbre, resonance and the sheer materiality of sound.