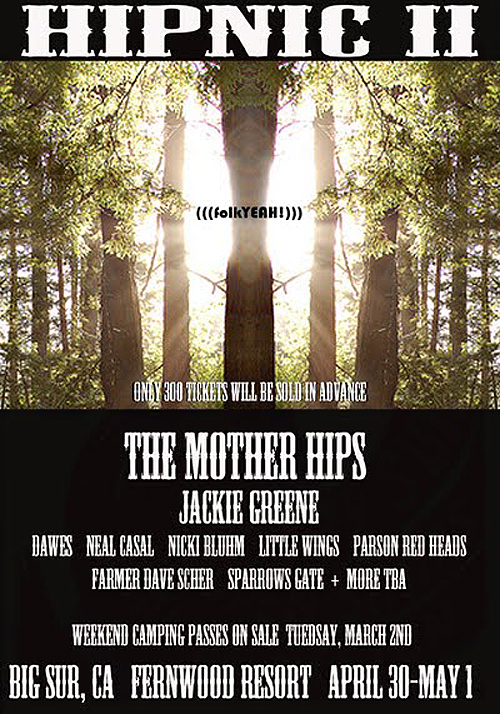 (((folkYEAH!))) Presents "The 2nd Annual Mother Hips Family Hipnic" @ Fernwood Resort in Big Sur, CA April 30 & May 1, 2010. Like last year, you'll be under a canopy of majestic trees with the warm sounds of dazzling folk-rock in all its incarnations. Get away from the stress and take it down a 1,000. You'll come back next week with your core centered, and the goofiest smile on your face. The event will take place at Fernwood Resort in Big Sur, CA over two days – April 30 & May 1, 2010. The other artists set to perform include Jackie Greene, Little Wings, Dawes, Neal Casal (The Cardinals), Farmer Dave Scher (Beachwood Sparks, All Night Radio), Elisa Randazzo (The Red Krayola), Parson Red Heads, Nicki Bluhm, Red Cortez, and Sparrow's Gate.

"The Hipnic is everything I like about music festivals; great acts, pristine surroundings and no crowds. This year the camping is on-site so it will be even better. It's a beautiful place, a beautiful season, and a beautiful group of people." says Tim Bluhm, Mother Hips front-man, singer-songwriter, and guitarist.
The Mother Hips are touring nationally (see dates below) behind their critically-acclaimed new studio album 'Pacific Dust' which has garnered rave reviews from the likes of MOJO Magazine (4 Star review) and both SF Chronicle & Relix claiming "The Hips have created one of its best albums yet, with classic rock melodicism, inspired flow, and tasty riffs."
Hipnic Festival details can be found @ www.folkyeah.com and are posted below.