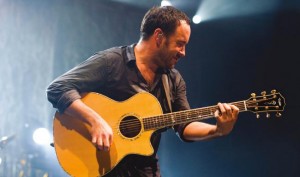 The Montessori Children's School is holding their annual auction this Saturday, February 18 at Trinity Hall in San Luis Obispo. One of the parents in the school works with Dave Matthews and Dave has generously donated some very special items to help out the school. Here they are:
ONE: A one-of-a kind Breedlove Guitar that Dave Matthews has illustrated on and signed! Dave creates these one-of-kind drawings a few times a year and donates them. This year, he has chosen to donate to MCS! We hear that these guitars have gone for anywhere between $2,500 and $10,000! Our amazing minimum bid for Saturday night will be $1,200!
TWO: 2 tickets to any one Dave Matthews show on the 2012 summer tour! Seating will be excellent and will include VIP PASSES with access to the VIP LOUNGE and a TOUR OF THE BACKSTAGE AREA. No meet and greet with Dave is guaranteed but is possible if there is already one scheduled for the event chosen. (All transportation and lodging will be the responsibility of the package winner).
THREE:  The deluxe version of Big Whiskey and the Gru Grux King – SIGNED BY EACH MEMBER OF THE BAND! It includes the full-length cd, a 4 song EP, a video of the making of the recording, a small photo tribute to Leroi Moore, a photo booklet of the band, and the CD artwork as larger individual pieces. WOW!
These items will be auctioned off this Saturday, February 18, 2012 at the Montessori School auction. The auction begins at 5PM. Tickets are $50.00 and include a wonderful Italian dinner created by chef Antonio Varia of Buona Tavola and all drinks. The silent auction goes from 5PM until about 7:30 and will include the Big Whiskey cd set. The live auction begins about 7:30 and will include the signed guitar and separately, the 2 concert tickets. If you are interested and would like to just come for the live auction portion, there is no charge to get in. Just come about 7PM. Please call the Montessori Children's School at 805-544-6691 or e-mail at kernzoo@aol.com to reserve a ticket by this Wednesday! If you just want to come for the live auction, e-mail us your name and phone number and we will greet you at the door about 7PM. While MCS is not a non-profit entity, your donation will go toward helping the school provide continued excellent Montessori education for this community. Thank you