One of the founders of the acid jazz scene with the Greyboy All-Stars, Karl Denson has become a heavyweight in his own right within the jazz/jam community, a sort of funky-horned groove maker, similar to Lou Donaldson. He resurrected his Tiny Universe outfit in 2009, released one of his most spirited albums, and is back to touring with a full band. He arrives this Thursday, February 3rd to SLO Brew, meaning you should clear a little room into your Thursday night schedule to get up on your good foot. Local welterweights Funk In Public will get evening started off right at 7:30. The show is 21 & over.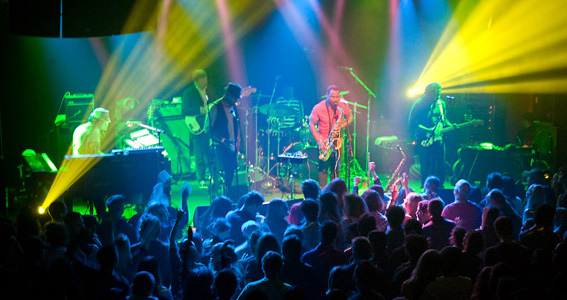 Karl Denson met Lenny Kravitz during a recording session in 1988. The following year, Kravitz called Denson and asked him to do the solo on the single "Let Love Rule" from Kravitz's album of the same name. As it turned out, Denson played on the whole album, joined the band for the supporting tour, and was invited back to play on and tour in support of the next two Kravitz albums, Mama Said and Are You Gonna Go My Way. When Kravitz bid adieu to horns, Denson did the same to rock & roll and began a jazz recording career in 1992. In 1994, he became one of the founders and leaders of San Diego's Greyboy Allstars as saxophonist, flutist, and singer. The band's acid jazz grooves caught the ear of discerning listeners, causing droves of fans to hit the dancefloors at clubs across the country. However, the band grew apart after only three years and eventually Denson formed a new band, Karl Denson's Tiny Universe (commonly referred to by jam/groove band fans as KDTU). The jazz-funk stylings of KDTU are influenced by acts such as James Brown, Maceo Parker, and Parliament-Funkadelic.
Lunar Orbit arrived in 2007 with his band stripped to a B-3 organ trio in an attempt to reinvigorate–and some would say reinvent–a classic jazz sound. Denson took some time off and went into the woodshed, writing and collaborating with friends,. He revived his Tiny Universe outfit as a septet (that featured Meshell Ndegéocello on bass) and emerged with Brother's Keeper on Shanachie in 2009. Brother's Keeper became the most poignant album Denson has released to date; it's the most autobiographical and spiritual, as well. This is the work of a mature musician and thinker; and one that bears repeated listening because there is so much in this heady brew, it's impossible to take in all these killer grooves in one sitting.