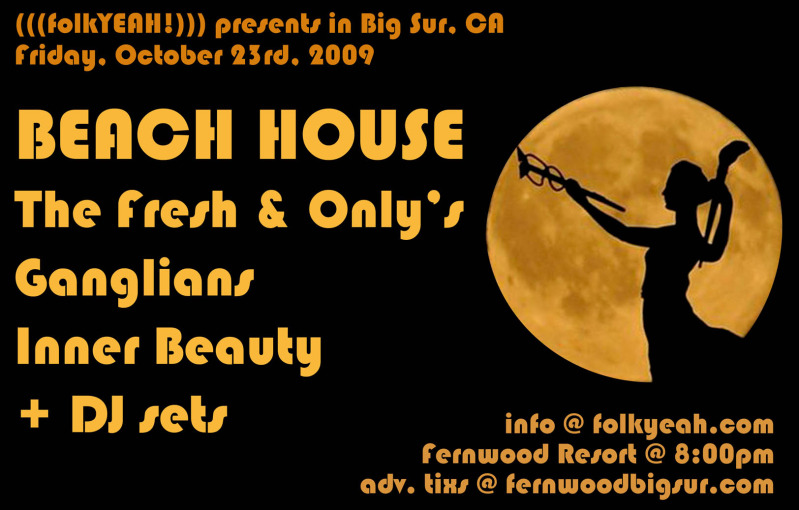 There may not be a better way to celebrate the earth-goddess of fall than this. Hear the lovely sounds of Beach House under a canopy of stars on Friday, October 23rd, 2009 at the Fernwood Resort in Big Sur.  Scroll down to enter to win as well as listen and view this dreamy act. The show starts at 8:00pm, and includes opening acts The Fresh & Only's, Ganglians, Inner Beauty, as well as a DJ set.
Beach House
Alex Scally (guitar/keyboards) and Victoria Legrand (vocals/keyboards), the latter of whom is the niece of French composer Michel Legrand, create the dreamy lo-fi sounds of Beach House. The Baltimore duo formed in 2005 with Legrand's Nico-like vocal hush and Scally's delicate instrumentation. Within a year, Beach House charmed indie music enthusiasts across the blogosphere with their languid songcraft, while the eerie warmth of "Apple Orchard" landed on Pitchfork's Infinite Mixtape MP3 series in August 2006. Two months later, Beach House issued their eponymous debut album for Carpark.
With their sophomore release Devotion, Beach House prove once again that they're one of the more strangely named bands around. Their music is so lonely, so haunting, that the only beach house it evokes is a deserted one, stranded on a winter night so desolate that summer isn't even a memory. Then again, that atmosphere is precisely what made Beach House's self-titled debut so striking, and Devotion is even more so, since Victoria Legrand and Alex Scally bring more focus, depth, and warmth to their unmistakable sound. Tracks like "Gila" and "Turtle Island" show that all the pair need to build a mood are their vintage-sounding drum machines, keyboards, and layers of Legrand's womanly, velvety voice, but Beach House spend just as much time expanding their horizons as they do delivering their definitive sound. Devotion begins with "Wedding Bells," which, with its fuzzed-out guitar, keyboard filigrees, harpsichords, and pedal steel, is one of the duo's most elaborate songs yet.
Listen To: Beach House – Master Of None
Watch Beach House's "All The Years" Video