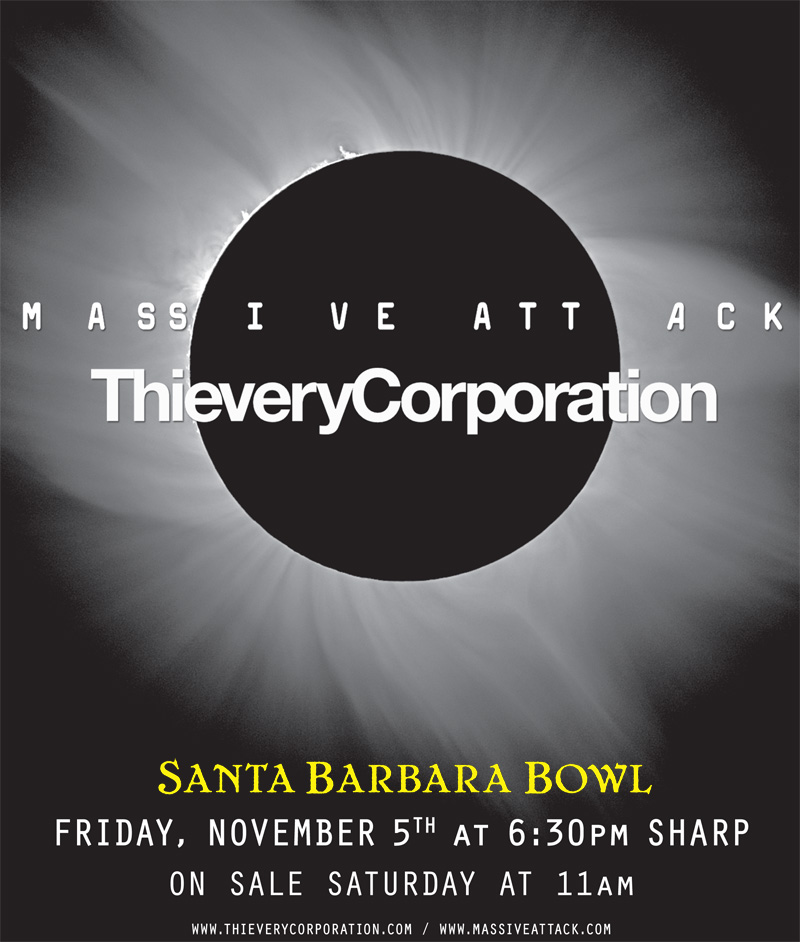 I've yet to meet someone who didn't like Thievery Corporation. Their rhythms bubble with a perfect balance of lucid worldly melodies floating on bottom heavy, dubby bass. They will be opening for the hugely influential, and heavyweight in the electronic world, Massive Attack. Together as a show under the outdoor sky of the Santa Barbara Bowl, there may not be a better place to be as a music fan this Friday, November 5th than in Santa Barbara. Tickets are still available and worth every cent. But we are offering you a chance to grab a pair. We'll pick a winner Friday morning. Show starts at 6:30pm sharp. Click continue to enter.
Don't miss your chance to see Massive Attack and Thievery Corporation perform at the Santa Barbara Bowl Friday, November 5th. Tickets range from $39.00 to $61.00, plus applicable service charges. The Santa Barbara Bowl is located at 1122 N. Milpas, Santa Barbara, CA 93103, 805-962-7411. Tickets available at all Ticketmaster outlets including: The Arlington Theatre and the Santa Barbara Bowl Box Office. To charge by phone please call, 800-745-3000. Order online at www.ticketmaster.com

MASSIVE ATTACK
The pioneering force behind the rise of trip-hop, Massive Attack were among the most innovative and influential groups of their generation; their hypnotic sound — a darkly sensual and cinematic fusion of hip-hop rhythms, soulful melodies, dub grooves, and choice samples — set the pace for much of the dance music to emerge throughout the 1990s, paving the way for such acclaimed artists as Portishead, Sneaker Pimps, Beth Orton, and Tricky, himself a Massive Attack alumnus. Their history dates back to 1983 and the formation of the Wild Bunch, one of the earliest and most successful sound system/DJ collectives to arrive on the U.K. music scene; renowned for their seamless integration of a wide range of musical styles, from punk to reggae to R&B, the group's parties quickly became can't-miss events for the Bristol club crowd, and at the peak of their popularity they drew crowds so enormous that the local live music scene essentially ground to a halt.
Review Of Heligoland (2010)
Heligoland marks a return to departures. The sound of Massive Attack circa 2010 has some similarities to what the group has done in the past, but overall, this represents a radical shift in music-making. Granted, most of the Massive Attack hallmarks are still here: gripping music laden with tension and dread, a production that sounds fathoms deep, and an insular worldview represented by a cast of vocalists both new and old. (The new voices include Damon Albarn, Hope Sandoval, Elbow's Guy Garvey, and TV on the Radio's Tunde Adebimpe.) What's immediately apparent, however, from the opener "Pray for Rain" is the sparseness and understated air on display here.
THIEVERY CORP.
Thievery Corporation make abstract, instrumental, mid-tempo dance music whose classification falls somewhere between trip-hop and acid jazz. Featuring the production skills of Rob Garza and Eric Hilton, Thievery Corporation released several warmly received singles on their own Eighteenth Street Lounge (ESL) label (named after their own Washington, D.C. bar and nightclub) in 1996. Although previously known primarily among acid jazz and rare-groove DJs, the group shot to minor celebrity when a track from one of their early 12″'s appeared on respected DJ/producers Kruder & Dorfmeister's mix session for Studio K7's DJ Kicks series. Similar in many respects (and more than just number) to that Viennese production duo, Thievery Corporation subsequently grew in popularity among a wider audience of DJs and headphonaunts. Anyone new to the Thievery phenomenon will find an acceptable sampling of the group's fusion of trip-hop with '70s soundtracks, lounge music, and occasional world music flourishes.
v