Each week brings more days that feel like summer than winter. To jump start your summer concert attending ambitions, we are giving away a pair of tickets to a sensational show. Multi-platinum rock band Thirty Seconds To Mars bring their Into The Wild tour to the Santa Barbara Bowl on Friday, May 14 with special guests MUTEMATH, Neon Trees and Street Drum Corps. Scroll down for more information and to enter to win!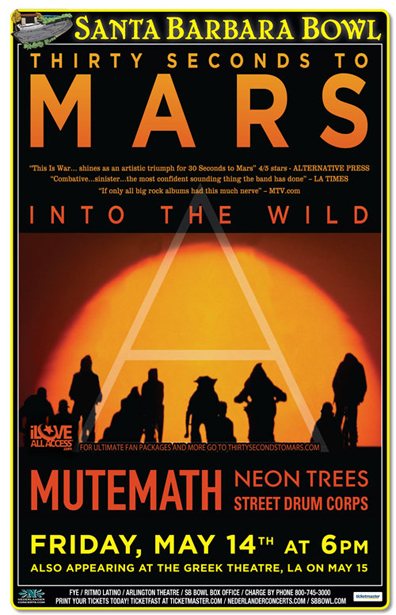 Thirty Seconds To Mars
Formed in 1998 by frontman Jared Leto and his older brother, 30 Seconds to Mars found success in the 2000s with a mix of post-grunge, screamo, and hard rock. The band gained a modest audience with its debut album, but it was the platinum-selling sophomore effort A Beautiful Lie that officially opened the flood gates in 2005, securing the band a frequent presence on MTV while paving the way for a number of successful tours. By placing all-access passes into 12 copies of the album, the bandmates also showed a savvy appreciation for marketing, which they revisited several years later by putting fans' photographs on the cover of their third album, This Is War.
MUTEMATH
Taking cues from several decades of alternative rock, the New Orleans-based quartet Mute Math (also known as MUTEMATH and MuteMath) fuses together New Order's synth-dance epics, the Stone Roses' shambling shuffle, Radiohead's spiky chilliness, Air's serene ambient pop, and the booming vocals of mainstream pop/rock.
Neon Trees
It's no surprise that Neon Trees opened for the Killers on their 2008 North American tour — the same kind of hyper-literate lyrics and whip-smart hooks run through the band's debut album Habits. However, the Provo, UT quartet doesn't have the huge, and occasionally cumbersome, ambitions that Brandon Flowers and company possess. Instead, Neon Trees keep it focused and catchy, crafting unrepentantly slick songs with huge choruses, and where everything falls into place at exactly the expected moment. Though elements of post-punk and dance-punk pop up here and there — "Love and Affection"'s jabbing riffs are pure Bloc Party — Neon Trees know how to absorb them fully into irresistible pop.
Tickets are available at all Ticket Master outlets including:  F.Y.E., Macy's, Ritmo Latino,
The Arlington Theatre and the Santa Barbara Bowl Box Office.
To charge by phone please call, 800-745-3000.  Order online at www.ticketmaster.com
The Santa Barbara Bowl is located at 1122 N. Milpas, Santa Barbara, CA 93103, 805-962-7411.
A winner will be picked on Monday, May 10th.
v