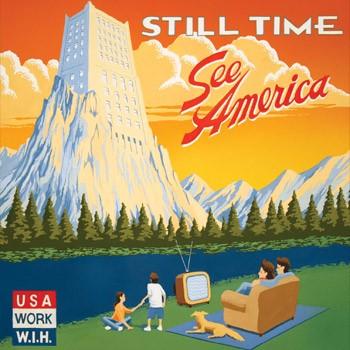 Korie and Todd Newman raised the bar of incoming concerts since they took over SLO Brew some years back. We've seen more national acts come through (Vampire Weekend, Leon Russell) on a monthly basis, as well as a commitment to keeping a space that consistently welcomes an all-ages audience, which can be pretty rare in America. This Friday, October 22nd marks the re-opening of Downtown Brew upstairs, as well as a return back to its original name, SLO Brew. Coinciding with the relaunch, local act Still Time will take the stage to celebrate the grand re-opening. Doors open at 7:30pm. We've had a glimpse of the work in progress upstairs. The renovations look marvelous! Here's a chance to win a pair of tickets to this event. It should be memorable. Opening act Central Currency will get things started at 8pm. Click continue to enter to win.

Still Time
Still Time, based out of San Luis Obispo, Ca., has just begun to attract the ear of audiences around the world. Since forming in 2004, Still Time has grown from a hugely popular local band to a group that has captivated listeners worldwide with their energetic grooves, all through a grass roots and word of mouth process. Combining elements of classic rock, folk, jazz, and reggae, Still Time has enjoyed sharing their eclectic style on stage with such bands as Ziggy Marley, Robert Randolph, Jackie Greene, George Clinton, Mad Caddies, Steel Pulse, Pepper, Ozomatli, ALO, One Republic, David Lindley, Strung Out, and The Expendables.
"With an earnest energy that brings to mind the Dave Matthews Band, Ben Harper and Counting Crows, Still Time could be on the verge of a huge breakthrough."
-Paul Freeman, Bay Area Daily News
"Still Time's album, Stream of Consciousness–a highly polished collection of 14 tracks–also represents the band's new maturity as artists…it rivals any major label release."
-Glen Starkey, San Luis Obispo New Times
Central Currency
Central Currency is musical mixture of the sounds of Northern and Southern California. Meeting in the middle ground of San Luis Obispo, they have been playing events, benefits, bars, and parties all over the Central Coast. Their sound is difficult to define but it's rooted in blues, funk, and folk rock. Each song takes you to a different place and their versatile sets can be perfectly molded to fit any event. With 20+ original songs and a vast array of covers (I'm Yours – Jason Mraz, Folsom Prison Blues – Johnny Cash, Twist and Shout – the Beatles, Forgot About Dre – Dr. Dre and more!) they can tailor their set to anything from a acoustic coffee shop show to a rowdy bar party. Central Currency has a great time joking with the audience but they are serious about their music. Recently they recorded a demo produced by Sean Hood and they are hoping to get back into the studio soon.
v