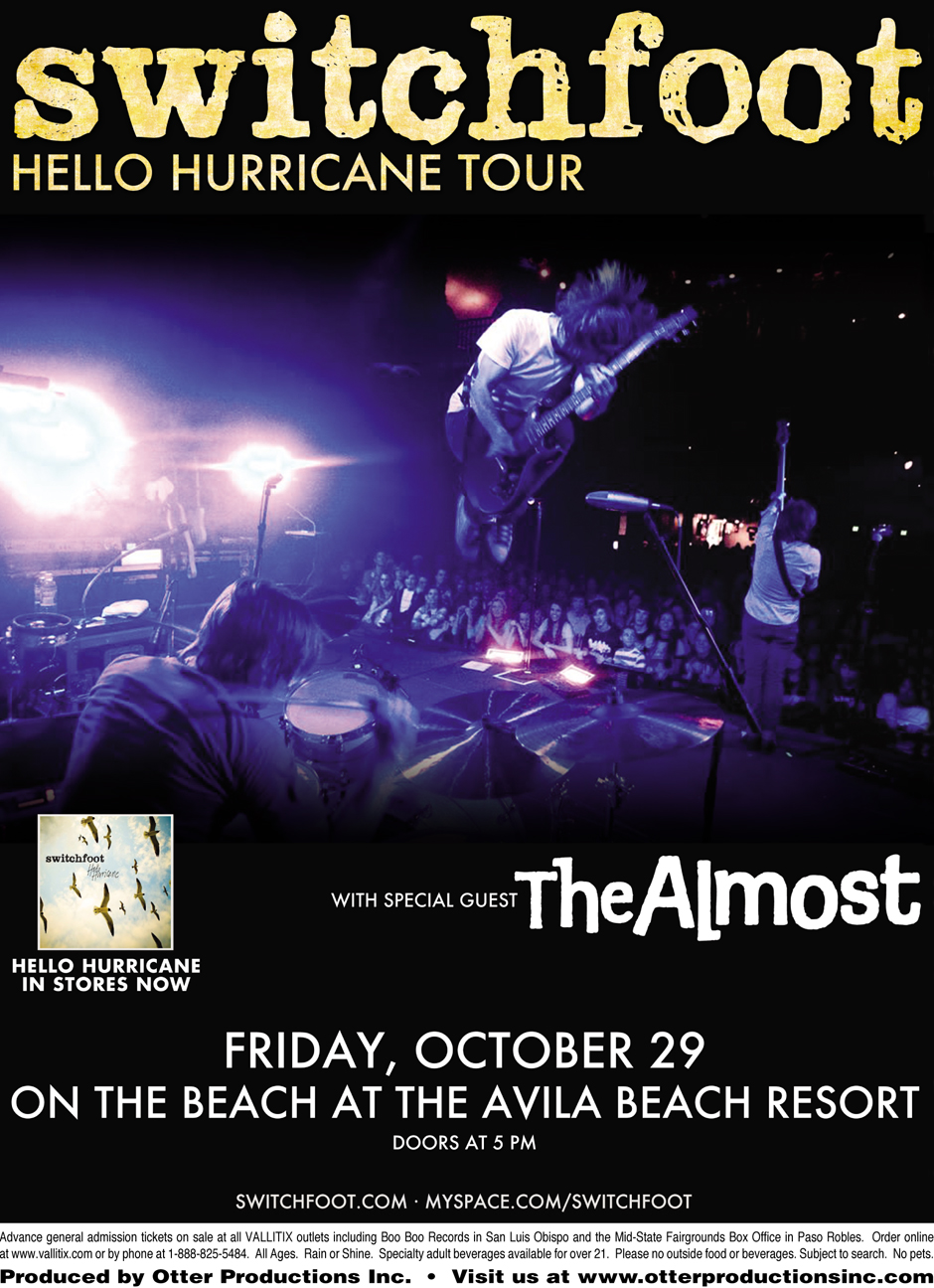 Probably the last event at the beautiful Avila Beach Resort this year, get ready for a power pop lovefest with two sensational bands that will put the beat in your heart, rain or shine. Meaning, yes, the event is rain or shine, but you should cross your fingers for a little rain, because there is nothing better or more beautiful than dancing outside with a soft drizzle coming down. Wear extra layers and shake the happiness into your soul. Tickets are still available for Switchfoot and The Almost, with a 2-for-1 offer for students. We're offering you a chance to win a pair here. Click continue to enter to win.

Switchfoot BIO
Originally called Chin Up, the alternative pop/rock outfit Switchfoot was formed in 1996 in San Diego, CA. Singer/guitarist Jonathan Foreman, bassist Tim Foreman, and drummer Chad Butler had only played several shows before adopting the Switchfoot moniker (taken from a surfing term) and partnering themselves with Charlie Peacock, an influential label executive who sought to promote Christian music to mainstream pop markets. After signing with Peacock's own label (re:think) in 1997, Switchfoot recorded and released their debut LP, The Legend of Chin. New Way to Be Human followed two years later and found an audience amongst Christian listeners, with the title track garnering a 1999 Dove Award for Song of the Year. Keyboardist Jerome Fontamillas joined up for 2000's Learning to Breathe, which found Switchfoot taking more steps toward mainstream modern rock. Breathe would prove to be a transition album for the group, earning a Grammy nomination for "Best Rock Gospel Album" (an award that had more to do with the band's label affiliation than the album's specific sound) and selling over 500,000 copies, thus achieving gold status.
Hello Hurricane (2010) review
By the time Switchfoot returned to autonomy with 2009's Hello Hurricane, the post-CCM quintet had learned so much from the rat race of their grueling Columbia years their new batch of songs appeared too effortless to be true. The multiplatinum glories of 2003's The Beautiful Letdown, while never replicated, taught the group to grow comfortable in its modern-rock skin — to accept its status as a band for the people. That explains why Hello Hurricane is almost devoid of surprises and offers exactly what the people want: an assemblage of straight-ahead rock anthems, free from left-of-center experiments, bouncy power-pop numbers, or obligatory balladry. All of the above were at some point part of Switchfoot's line of attack, but here they fall by the wayside in exchange for no-nonsense anthems of purpose and faith. Hello Hurricane is by far the San Diego rockers' most natural, effortless outing to date.
The Almost BIO
The Almost is an emo solo project by Aaron Gillespie, drummer and occasional lead singer for Underoath, the Christian metalcore outfit he co-founded in 1998. Choosing to come out from behind the skins like his idol Dave Grohl before him, the Florida-bred Gillespie (who relocated to Salt Lake City in early 2007, following his marriage) wanted to explore a different outlet for his songwriting outside of his hard-hitting main gig.
Monster Monster (2009) Review
The Almost is Underoath drummer and sometime singer Aaron Gillespie's side project, and on this second full-length, it's a surprisingly mainstream rock radio-friendly outfit capable of cranking out hooky three-minute songs with the energy of the Foo Fighters at their most uptempo. He did everything on the band's debut, but formed a band for live performance in the aftermath; those players appear on this disc, with Gillespie doing double-duty behind the kit and the microphone. There's a reasonable amount of musical variety on Monster Monster, with keyboards adding a melancholy depth to some of the songs and acoustic guitars helping them get extra-meaningful on others. There's even a classic rock feel occasionally; "Summer Summer" sounds more like Tom Petty than Thrice or Thursday, but it's "Want To," the crunching power pop anthem "Get Through," and the title track that could most easily fit a rock radio playlist.
v