Coming to the Arlington Theatre in Santa Barbara on Wednesday, March 17th, Zac Brown is riding the crest of his "Best New Artists" nod from the Grammys. Not that he wasn't sizzling stages coast to coast previous to this award, but it's nice to see a musician whose been doing it alone, finally get an acknowledged measure of success. If you feel like your Celtic luck is running high, we're offering one lucky winner a pair of tickets to see the Zac Brown Band in Santa Barbara. We'll pick a winner on Monday, March 15th. Tickets are also available at all TicketMaster outlets and the Arlington Theatre Office. To charge by phone please call, 805-583-8700. Order online at www.ticketmaster.com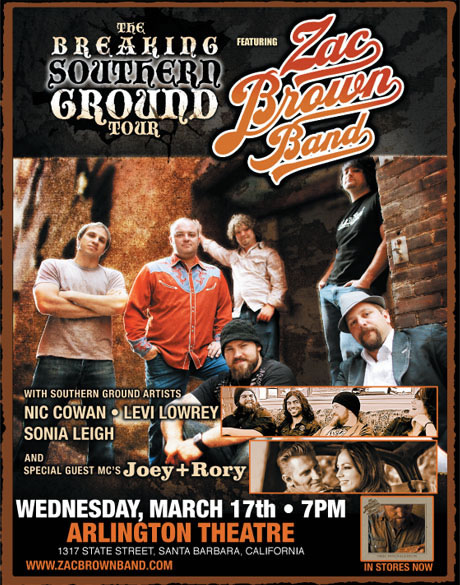 Zac Brown Band
Zac Brown is a country singer, songwriter, and bandleader, one of the brightest stars in a generation of performers set on changing the paradigm of the country music business. He's also a record producer, record label head, and philanthropist set on making the world a better place for as many people as possible. With his winning combination of country, bluegrass, reggae, and Caribbean music, he appeals to country fans and jam band hippies, and could well cross over to lovers of world music and pop. He sold over 30,000 copies of the first two self-produced albums he made for his own Southern Ground label, and "Chicken Fried," the Zac Brown Band's first single to get national distribution, went platinum with over a million downloads.
Brown was born in 1978 in Atlanta, GA, and grew up in Dahlonega, GA, a small town in the north Georgia mountains. He was the 11th child in a family of 12 kids, and grew up in a split family. Brown's oldest brother was 21 years his senior, later, he was rumored to of known Willie Nelson's son and so, he was exposed to a wide variety of music growing up. His siblings' record collections included country, pop, bluegrass, reggae, folk, and singer/songwriter albums by Cat Stevens, James Taylor, the Eagles, Bob Marley, Willie Nelson, and Waylon Jennings. His brother Wynn played bluegrass guitar and banjo, his mother liked old pop singers like Sinatra, and his dad played folk guitar and led the family in campfire singalongs. Brown sang as soon as he could talk, and started classical guitar lessons at age seven, which helped his fingerpicking skills when he switched to bluegrass and country in middle school. He started playing solo gigs while he was in high school, doing covers of pop and country songs as well as his few original tunes.
In 2002 he put together the first Zac Brown Band, looking for players with a high level of musicianship who wanted to be equal partners in a band with a communal vibe. They played about 200 gigs their first year, a pace the band keeps up to this day.