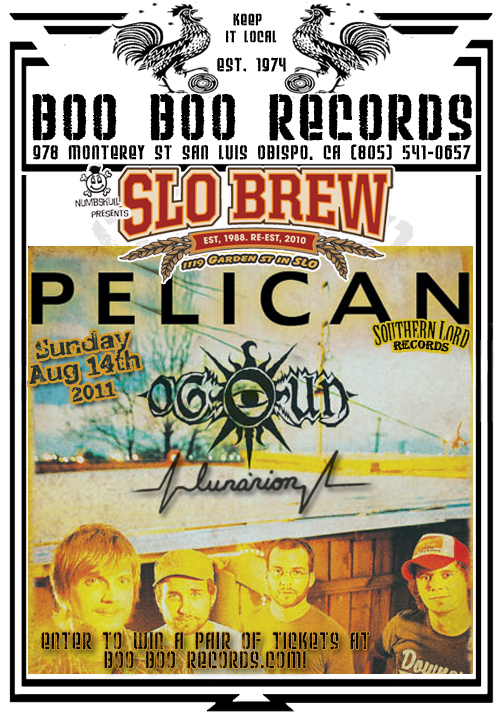 Southern Lord Records would like to give you a chance to enter to win a pair of tickets to see Pelican at SLO Brew on Sunday Aug 14th at 7:30pm.  Pelican is known for its dense combinations of different melodies and extended track lengths. Its distinctive sound draws from stoner rock, doom metal, post-rock, and other influences. Larry Herweg, Trevor de Brauw, and Laurent Schroeder-Lebec also make up three-quarters of the band Tusk. Regarding the band's genre, de Brauw said, "I don't think of Pelican as a metal band… I feel like we're part of a trajectory of Midwest bands that kind of blend aggression with a pop sensibility, so while it's easy to classify us with instrumental bands, we're not instrumental by design. We just didn't know how to put vocals in our music and for it to sound right."
Sharing the stage with Pelican are locals Ogoun and Luna'rion.  Ogoun are a stoner-doom power trio that play down bluesy, heavy riffs inspired by giants of the genre such as Kyuss, Clutch, High on Fire and Sleep. Luna'rion's style is more akin to a Pink Floyd mesh with Dredg, making their own version of progressive rock.
ENTER TO WIN: PELICAN at SLO Brew, Sunday Aug14th, 7:30pm
We would love to hear from you! Please fill out this form and we will get in touch with you shortly.