UPDATE: Thurston Moore has to withdraw from the show. It will now be at Fernwood and not Henry Miller Library.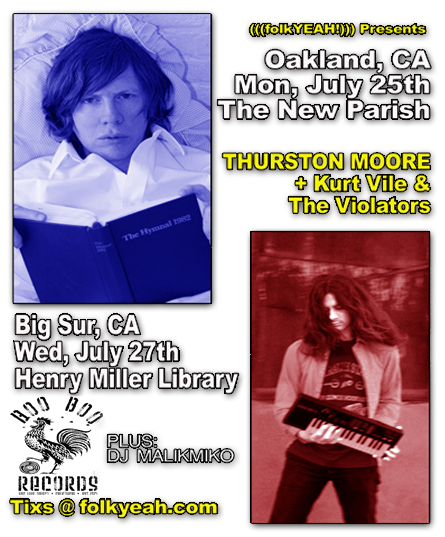 On Tuesday May 24, Matador released Thurston Moore's 'Demolished Thoughts', the 4th solo album from Sonic Youth's Thurston Moore (5th if you count 1998′s 'Root') and the first to be produced by Beck Hansen. Recorded in Los Angeles and Northampton, MA this past autumn & winter, with a title culled from The Faith's "It's Time", 'Demolished Thoughts' is an equally beautiful and brooding work ; while there's more than a few tonal similarities to some of your favorite Moore compositions from years past, the execution this time around is nothing short of staggering. No disrespect to 1995′s 'Psychic Hearts' or 2007′s 'Trees Outside The Academy' is intended on our part when we promise 'Demolished Thoughts' burnishes Thurston's rep as a classic songwriter in ways we never anticipated when this album was first being talked about last year.
Kurt Vile is a guitarist and singer from Philadelphia. He was previously the lead guitarist in the band The War on Drugs and also has a burgeoning solo career. He was signed by Matador Records in May 2009 as a solo artist. His music has been likened to Bruce Springsteen, Bob Seger, and Tom Petty. His first album for Matador, titled Childish Prodigy was released in October 2009. Prior to signing with Matador, Vile released two albums, God is Saying This to You and Constant Hitmaker, on Mexican Summer and Woodsist, respectively. He plays both solo shows as well as shows with a backing band called The Violators.