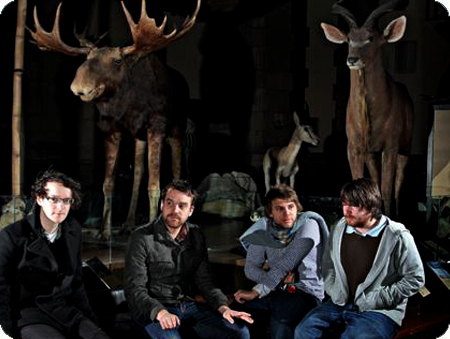 Coming off a sold-out show at the Fillmore, Glasgow's Frightened Rabbit will be playing tonight, Thursday, May 20th at Downtown Brew. Surprisingly, there are still tickets left. With their newest album, Winter Of Mixed Drinks, Frightened Rabbit have made a tremendous leap forward with complex arrangements and song crafting that sounds familiar upon first listen. Tomorrow, they headline the Henry Fonda Theatre in Los Angeles, so this is the perfect time to catch these rising stars. Maps + Atlas and Our Brother The Native will open the show.
Generous handclaps and a beautifully thrumming guitar buoy The Loneliness & The Scream. Living In Coulour, meanwhile, is a statement of intent, chiming pianos and a reeling rhythm pushing things along, typifying an album made by a band happily at the peak of its powers. – Mojo Magazine Mar 2010, p.90
Frightened Rabbit
With each release, Frightened Rabbit's music grows by leaps and bounds: they offered humble, moody folk-pop on Sing the Greys, which they expanded into searching rock on Midnight Organ Fight. On Winter of Mixed Drinks, they focus and polish Organ Fight's epics — and add a healthy dose of optimism. Though they've always been concerned with heavy issues like life, death, freedom, devotion, and spirituality, this time the bandmembers don't seem beaten down by their struggles with them. Even when Scott Hutchison sings "Find God just to lose it again" on "The Loneliness and the Scream," there's a warmth in the music that makes him sound liberated instead of isolated. Indeed, liberation is a major theme on Winter of Mixed Drinks, whether it's shedding a "mediocre past" on "Things" or losing one's self in the moment on the joyous "Swim Until You Can't See the Land." This hopeful streak puts Frightened Rabbit's anthems more in line with early U2 than with their friends and fellow Scotsmen the Twilight Sad and We Were Promised Jetpacks. Frightened Rabbit deal mostly in grand gestures, but when they're as rousing as "Living in Colour" — which features a gorgeous string arrangement by the band's FatCat labelmate Hauschka — it hardly matters. Winter of Mixed Drinks looks at life's ice and snow from the perspective of a dawning spring.