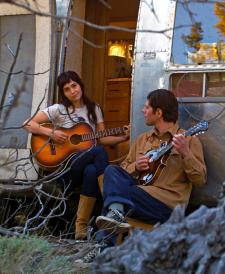 Gwyneth & Monko will be stopping by for an in-store performance this Wednesday at 5pm.
With a voice that invokes Jenny Lewis' solo work crossed with the intimate folk of Gillian Welch; Gwyneth Moreland strums her guitar in subtle chords while Michael Monko accompanies her lyrical stories with trickling mandolin, steady acoustic guitar and folk accents. Gwyneth & Monko sound as if they come from classic country roots, perhaps off a farm in Tennessee, but it's northern California they call home.
Monko and Gwyneth formed as band after the 2009 release of Gwyneth's solo album Wishbone. When she was getting ready to tour for Wishbone, she searched for a backup band and fortune gave her multi-instrumentalist Monko. Almost immediately upon touring, the pair began writing music together. "The first time I heard Gwyneth sing, I knew she was special," beams Monko. "I could only dream of playing with such talent." Monko's musical past consisted of playing both heavy rock songs and bluegrass, which when blended together turned out to be the perfect complement to Moreland's earthy and classic country vocals.