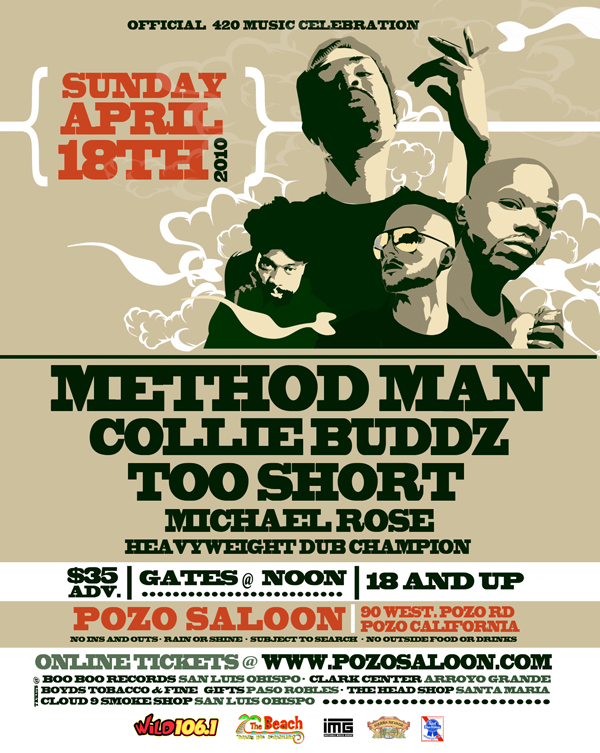 With its 3rd Annual 4/20 celebration, Pozo Saloon has nailed the idea of an outdoor festival from start to finish. With big named headliner, they've cultivated a roster that includes roots reggae, east-coast and west-coast hip-hop, dancehall and dub. And with temperatures estimated for 75 degrees, it may be the best party on the central coast. We've sold tons of tickets, but Pozo is a spacious location. Don't miss out.
Method Man
Method Man was the first — and biggest — solo star to emerge from the groundbreaking Wu-Tang Clan. His mush-mouthed, sandpaper-rough bellow (at times recalling EPMD's Erick Sermon) and imaginative rhymes easily made him one of the most recognizable, unpredictable MCs in the group, yet his flow was more deliberate and laid-back than the Wu's resident loose cannon, Ol' Dirty Bastard. On his solo records, Method Man developed a persona that swung from offhand, understated menace to raucous stoner humor.
Too Short
Born in Los Angeles, but an Oakland resident by the age of 14, Too Short was the first West Coast rap star, recording three albums on his own before he made his major-label debut with 1988's gold album Born to Mack; his next four all went platinum. Anticipating much of the later gangsta phenomenon, he restricted his lyrical themes to tales of sexual prowess and physical violence, with the occasional social message track to mix things up. After the release of Gettin' It (Album Number Ten) in 1996, Too Short decided to retire, his status assured as one of the most successful solo rappers of the 1980s and early '90s, although that decision would prove short-lived.
Collie Buddz
Born in New Orleans but raised in Bermuda, dancehall singer Collie Buddz was entranced by the urban music of his island home. He favored dancehall the most, but soca and hip-hop were important too, all of which exploded out the speakers of his DJ brother. His brother was also involved in recording Collie's demo track, "Come Around," an infectious song that blew up in Europe and topped the charts in the U.K. before it came to Jamaica. As the marijuana anthem was climbing the JA charts all the way up to number one, rapper Busta Rhymes cut his own, unauthorized remix, which increased the track's presence on urban American radio. Guest vocals on a remix of Beyoncé's "Ring the Alarm" began his relationship with the Sony label, while hooking up with Lil' Flip for the rapper's I Need Mine album kept spreading the Collie Buddz name on the streets.
Michael Rose
One of Jamaica's most distinguished singers, as a member of Black Uhuru Michael Rose was one of the foundation stones of the roots movement, before launching a successful career in the modern dancehalls. His work with Uhuru helped bring the group a Grammy. Black Uhuru was, according to Reggae: The Rough Guide, "The most dynamic and progressive reggae act of the 1970s and early '80s."
Heavyweight Dub Champion
Resurrector & Patch are credited with production, writing, and performance, with additional contributions in all those categories by Totter Todd, and scratches by DJ i11 Naughty. They might be at the heart of this booming, sometimes dub-reggae-flavored hip-hop.
Details below: The doors open at noon. Bring a low back beach chair or blanket for general admission seating. 18 AND OLDER ONLY. No outside food or beverage.        Rain or Shine