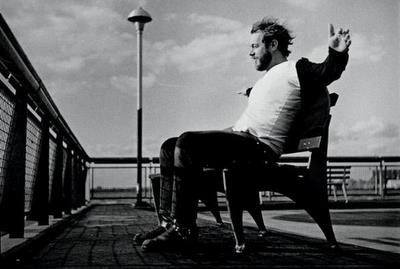 Rounder recording artist Nathaniel Rateliff will be paying the central coast a visit and performing on Friday July 30th, at the Steynberg Gallery 8pm and here at Boo Boo Records at 5:30pm. Come see the resonant Johnny-Cash-like-baritone perform a collection of world-weary songs chronicling the life of the Denver-by-way-of-Missouri songwriter.  Tickets for the Steynberg Gallery are $9.50 and the warm up in-store is once again FREE.
Rateliff's stunning and heartbreaking debut album In Memory Of Loss was released on April 27th and here is what a few had to say about it and him.
Old fashioned simplicity… haunting vocals and tender thumb-picking…." – Vanity Fair
"pensive… rousing" "stark, eloquent… Cash echos" – NY Times
"Nathaniel Rateliff… newly signed to the Rounder label, conjured the ghosts of Nick Drake and Gram Parsons with spare, moody folk-rock wrapped in grainy arrangements anchored by a fantastic bassist, Julie Davis." – Time Out NY
Nathaniel Rateliff Bio
The first things you notice are the voice and the space. That voice belongs to Nathaniel Rateliff, a man who's earned the twang and hard-knock weariness that shines through on his Rounder debut. The space comes courtesy of producer Brian Deck (Califone, Iron & Wine, Modest Mouse), who helped transform 8-track bedroom demos into miniature epics of contrast, beauty, and yearning. In Memory of Loss is a stunning, heartbreaking sonic document from a singer-songwriter who's made his way from a childhood in Bay, Missouri (pop. 60) to the national stage.
Rateliff grew up of modest means, the son of devout Southern churchgoers. The family sang together throughout his childhood. At age 7 Rateliff learned the drums. As a teenager, he stumbled across a cassette of Led Zeppelin's IV abandoned in a local barn; he wore the tape out listening to it on headphones, drumming along with "When the Levee Breaks" and "Misty Mountain Top."
Rateliff's youth in rural Missouri was quiet and rambling. He built skateboard ramps, explored caves, slept outdoors in the heat. "I loved growing up there," he says. "It's beautiful. There's something really nice about there not being much to do; it really helped me be a creative person." After his father passed away, when Rateliff was only 13, he picked up the guitar. His mother taught him three chords, a friend showed him a few more, and there was no need to bother with lessons; he started penning his own songs on an acoustic. He'd later go electric, gaining an appreciation for the freedom of effect pedals: "I was really into making feedback for hours at a time." Both impulses are present on In Memory of Loss, with its shards of raw guitar rising beneath hushed, insistent melodies.
At eighteen Rateliff relocated to Denver. He scored a job with a trucking company, working on the dock and the yard. The money was good, but Rateliff kept falling asleep at the wheel. "I had a little stint of narcolepsy," he says. "My limbs were going numb, the color was all weird in 'em. My thyroid wasn't working. Weird stuff that shouldn't be happening when you're in your 20s, but it was." After a battery of tests Rateliff decided to take time off from the job. It was a period of rest and recovery, but also one of artistic growth and fresh challenges. Rateliff used the break to learn the piano, much as he had other instruments—by teaching himself. The first song he tackled was Leonard Cohen's melancholy classic, "Hallelujah." (That same mixture of the sacred and profane is recognizable on "We Never Win," with its throwbacks to gospel vocal harmonies, Rateliff harkening to "an old time revival.")
Meanwhile, Rateliff developed a dedicated following within the Denver music community and beyond. Spin praised his "massive, alluring" voice. Billboard dubbed the unsigned singer-songwriter a 'must hear.' This wave of acclaim lead to a live set on the popular indie site Daytrotter and a solo tour opening for the Fray. The New York Times praised Rateliff's "stark, eloquent [Johnny] Cash echoes," and he earned enthusiastic mentions from Time Out New York and the tastemaker music blog, Brooklyn Vegan. New York magazine pegged Rateliff as an "artist everyone should be listening to" during the pivotal CMJ Music Festival.
Rateliff began writing a different sort of song than he was used to: quieter, more introspective and patient. A friend turned him on to the bedroom recording potentials of the time-honored 8-track, and a new working method was born. "I just kind of went back to my roots," he says. "It was a different sound, but it was still coming from the same place."
While recording In Memory of Loss, Rateliff lived in Chicago, working with producer Brian Deck to craft the nuances: mournful harmonica on "You Should've Seen the Other Guy," the ominous organ of "Longing and Losing," propulsive bass drum on "Early Spring Till." Rateliff's Rounder debut is rooted in a bygone era. It's both fresh and classic, imbued with a melancholy nostalgia, the rough candor of rock'n'roll's past and the warmth and earnestness of folk storytellers. Rateliff has a personal connection to the sounds of the 60s and 70s. "It was more about songs, and not about an industry," he says. "It was about a movement, not about making money. I think we're moving back into that again. There's still an importance in actually writing songs again. People are interested in hearing things that make sense."
These thirteen tracks, with their soulful minimalism, certainly make sense. Hints of the music he grew up on – Van Morrison, Muddy Waters, the Beatles—shine through. (Album closer "Happy Just To Be," with its pounding piano chords, is a close cousin to the Lennon-penned "Across the Universe.") Yet Rateliff is also at home in what may be called, for lack of a better term, the neo-folk revival. His voice is so confident that you can occasionally imagine the music dropping out entirely, a song propelled solely by Rateliff's a capella strengths—equal parts church spiritual and TV on the Radio riffing on the Pixies' "Mr. Grieves."
"The one thing that made me want to write and play music was trying to get the same feeling that it gave me when I listened to it," Rateliff says. "Like having an anxiety attack—where you almost start to weep, at the same time feel a strange pressure in your chest." This persistent troubadour has struggled and persevered to this point; now, the wider world is ready for Nathaniel Rateliff. "In Memory of Loss," he says, "is for everyone who's willing to listen."