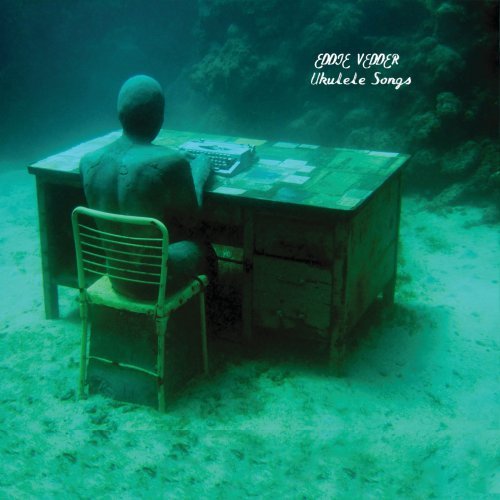 Eddie Vedder – Ukulele Songs CD (Universal)
A collection of original songs and covers performed by Vedder on ukulele. Featuring a number of songs that Vedder penned and first played live but never released nearly a decade ago, Ukulele Songs also includes a uke version of Pearl Jam's 2002 track "Can't Keep" and guest vocalists Glen Hansard and Cat Power on two tracks.
Seapony – Go With Me CD/LP (Hardly Art)
Debut full-length from this refreshingly simplistic Seattle dream-pop trio. Fuzz-drenched guitar playing with simple chord progressions, topped with concise melodic hooks and breathy vocals.
Kate Bush – Director's Cut CD/LP (Fish People)
On Directors Cut, Kate Bush revisits a selection of tracks from her albums The Sensual World and The Red Shoes, a process that presents a fascinating portrait of an artist in a constant state of evolution. She has re-recorded some elements whilst keeping the best musical performances of each song — making it something of a director's cut but in sound, not vision.
The Melvins – Sugar Daddy Live CD (Ipecac)
13-track live album was recorded at the Busta-Guts Club in Downey, CA and features songs that span the length of their influential career; from the doom metal favorite "Boris" (from 1991's Bullhead) to "The Kicking Machine" (from 2008's Nude With Boots).
My Morning Jacket – Circuital CD/2xLP (ATO)
Circuital was recorded in Louisville, KY and Nashville, TN, and was co-produced by frontman Jim James and Tucker Martine (R.E.M., Sufjan Stevens, The Decemberists). The result is yet another reinvention of their sound that both forges new ground and maintains the distinct spirit of MMJ's previous work.
Ocote Soul Sounds – Taurus CD (Eighteenth Street Lounge)
Like its bullish namesake, their latest album smashes through sonic barriers with a heavy and dynamic mix of pan-Latin flavor, conscious political attitude, Afrobeat and hip-hop rhythms.
Death Cab For Cutie – Codes And Keys CD/2xLP (Barsuk/Atlantic)
DCFC's seventh album breaks away, though not completely, from the guitar-driven style they are known for, instead making use of piano and electronically centered songs.
Frank Fairfield – Out On The Open West CD (Tompkins Square)
California based fiddle, guitar, and banjo player makes his living by being a street musician in Los Angeles.
Flogging Molly – Speed Of Darkness CD/LP (Borstal Beat)
New album from the Celtic punk ensemble features more of their signature blend of rock, folk, punk, blues and traditional Irish music.

CDs:
AKA – Hard Beat CD/2xLP (Strawberry Rain)
Anthology from Indonesia's heaviest psychedelic and progressive funk rock group.
Artichaut Orchestra – T For Teresa CD (Tzadik)
Led by a colleague of the great modern klezmer David Krakauer, Artichaut Orchestra brilliantly mix jazz, klezmer and classical music, blending the energy of rock with the unpredictable creativity of improvisation.
Jello Biafra And The Guantanamo School Of Medicine – Enhanced Methods Of Questioning CDEP/12" (Alternative Tentacles)
This is Biafra's first full-time band since Dead Kennedys broke up in 1986, and the depth and breadth of his musical chops and lyrical triumphs are on full display on these ferocious tracks.
Black Stone Cherry – Between The Devil And The Deep Blue Sea CD (Roadrunner)
First single "White Trash Millionaire" pairs Robertson's soulful delivery with the urgent and infectious rhythms of his fellow players. Sure, this is Southern rock at heart; but the concept is universal: just take what the world gives you and make that work.
The Black Swans – Don't Blame The Stars CD/LP (Misra)
"Don't Blame The Stars is one of the best records you'll hear all year. It is full of sad songs about happy things, and happy sounding songs about very, very strange things. They are irreverent, eidetic tales of superstition, addiction, being lost, getting found, and just being alone. In short, lyrical, hilarious meditations on being alive and living — for which, as frontman Jerry DeCicca will tell you, 'there is no known cure.'" — James Jackson Toth (Wooden Wand)
BT – These Re-Imagined Machines CD (Nettwerk)
Tracks from BT's 2010 album These Hopeful Machines have been re-imagined by Armin Van Buuren, Sultan & Ned, Marcus Schössow, Chicane, and others.
Nick Cannon – Mr. Showbiz CD (Ingrooves)
Filmed in Las Vegas at The Pearl Concert Theater at The Palms Casino Resort, Cannon uses his trademark charisma and natural comedic timing.
Dark Castle – Surrender To All Life Beyond CD (Profound Lore)
Often referred to as doom metal's version of The White Stripes, Dark Castle create short, dense, punishing and vitriolic songs that take in a wide variety of influences — from noise, drone, prog and even traditional Eastern music.
Egypt Central – White Rabbit CD (Fat Lady Music)
Sophomore album from the hard rock band.
Elaine Elias – Light My Fire CD (Concord Picante)
New album from jazz vocalist/pianist Elaine Elias includes covers of familiar works by songwriters such as Jim Morrison, Stevie Wonder and jazz saxophonist Paul Desmond.
Forrest Of Stars – Opportunistic Thieves of Spring CD/CD+DVD (Prophecy)
New from the British black metal band.
Gamma Ray – Skeletons & Majesties CD (Eagle Records)
New mini-album from the German power metal band collects seven rare tracks.
Tom Harrell – The Time Of The Sun CD (Highnote)
On The Time Of The Sun, Tom and his quintet confirm their place at the top of the post-bop mainstream. Of course, Harrell's often beautiful, always rigorous solos are to the fore but he allows each member of his band to shine and nobody is relegated to second fiddle.
Peter Hook And The Light – Unknown Pleasures Live In Oz CD/LP (Pylon)
Legendary bassist Peter Hook performs Unknown Pleasures in its entirety.
Jakszyk, Fripp And Colllins – A Scarcity Of Miracles: A King Crimson Projekct CD/CD+DVD (Discipline)
Echoing elements of King Crimson's unique vocabulary, while presenting a unified group sound far removed from anything previously released under the KC name, A Scarcity Of Miracles manages to be both intimate and epic, complex yet immediate. Vinyl version due June 14.
Kids On A Crime Spree – We Love You So Bad CD/LP+MP3 (Slumberland)
Eight pop tunes with dark undertones inspired by the timeless songwriting and lush instrumental arrangements of Phil Spector.
Jordan Knight – Unfinished CD (JK Music/Mass Appeal Entertainment)
Brand new album from New Kids On The Block member.
George Lewis – Les Exercices Spirituels CD (Tzadik)
Featuring three new chamber compositions from the composer, scholar, computer wizard and trombonist extraordinaire.
Madlib – Medicine Show No. 9: Channel 85 Presents Nittyville (Season One) CD (Madlib Medicine Show)
Madlib follows his detour into jazz with a punch-you-in-the-face return to hip-hop form — a collaborative album with Detroit rapper Frank Nitti. A hazy, funk-filled rap album.
Mando Diao – Give Me Fire CD (Militia Group)
New album includes the hit single "Dance With Somebody," as featured on this seasons Dancing With The Stars.
Dave Matthews Band – Live At Wriggly Field 2xCD (RCA)
Dave Matthews Band performed at Wrigley Field in Chicago, IL on September 18, 2010 to more than 40,000 fans.
Ozzy Osbourne – Blizzard Of Ozz [Reissue/1980] CD/LP (Sony Legacy)
Ozzy Osbourne – Diary Of A Madman [Reissue/1981] CD/LP (Sony Legacy)
Remastered and expanded versions of Ozzy's first two solo albums.
Richard Pinhas & Merzbow – Rhizome CD (Cuneiform)
Second recorded collaboration by two of the best-known figures in contemporary experimental electronic music.
Robert Pollard – Lord Of The Birdcage CD/LP (Guided By Voices Inc.)
Features a twist in his writing process, transforming a dozen previously written poems into songs. Power pop, glam chugs, gorgeous ballads and a notable number of 3/4 waltz-time meters.
J.D. Souther – Natural History CD (E1)
Souther reinterprets eleven of his greatest classics.
David Sylvian – Died In The Wool (Manafon Variations) 2xCD (Inner Knot)
Variations on the acclaimed 2009 release Manafon, with the addition of six new pieces. The second CD features audio from the installation "when we return you won't recognize us," originally commissioned for Biennial of Canaries 2008-2009.
Alex Turner – Submarine CD/LP (Domino)
Six-track EP of original songs by Alex Turner from Submarine, the debut film from Richard Ayoade, based on the novel by Joe Dunthorne.
Twisted Sister – Under The Blade [Reissue/1982] CD+DVD (Eagle Records)
Digitally remastered and expanded two-disc edition of Twisted Sisters' debut includes bonus tracks plus a DVD of their appearance at the 1982 Reading Festival.
US Christmas – The Valley Path CD (Neurot)
Epic, single-track album from the Appalachian masters of dark psychedelia.
The Vaccines – What Did You Expect From The Vaccines? CD (Columbia)
37-minutes of "lo-fi, heart-grabbing rock & roll" Q Magazine. "A mix of pop-punk, chillwave and classic good-time pop & roll" NME. "Glimmering, lo-fi punk-pop laced with dreamy summertime harmonies" The Fly.
Various Artists – Playing For Change 2: Songs Around The World CD+DVD (Playing For Change)
This CD+DVD package is a global mix of cultures and rhythms featuring original songs and reinterpretations of Bob Marley's "Redemption Song," Stevie Wonder's "Higher Ground" and John Lennon's "Imagine." Artists include Baaba Maal, Keb Mo, Sandra de Sa, Taj Mahal, Tinariwen, Carlos Vives, Roger Ridley, Grandpa Elliot, Stephen Marley, Mermans Kenkosenki, Char and Toumani Diabate.
DVDs + Blu-ray:
David Byrne – Ride, Rise, Roar DVD/Blu-ray (Eagle Vision)
Concert film featuring David Byrne blends riveting onstage performances with intimate details of the creative collaborations that make the music and performance happen. Shot with multiple cameras over several concerts during the '08-'09 tour, the film blends the energy and charisma of classic Talking Heads with the heartfelt pathos of David Byrne and Brian Eno's most recent collaboration. 87 minutes.
Death Cab For Cutie – Live At The Mount Baker Theatre DVD (Atlantic)
On April 22 and 23, 2009, Death Cab For Cutie returned to Bellingham, WA, where the band formed over 10 years prior, to perform two sold out concerts at the historic Mt. Baker Theatre.
Eddie Vedder – Water On The Road DVD (Geffen)
It's Eddie Vedder with a ukulele and then some! Live concert DVD from his 2008 solo tour at DC's Warner Theatre. Directed by Christoph Green and Fugazi's Brendan Canty.