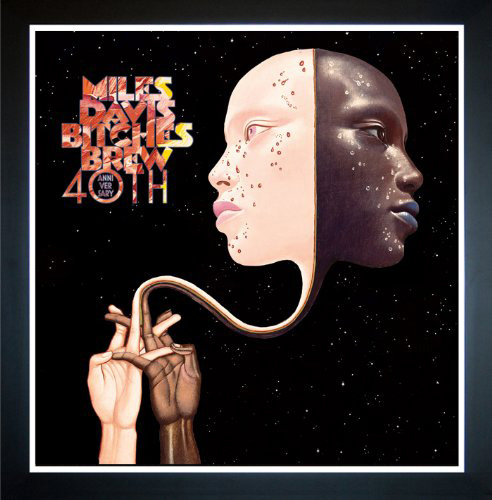 Miles Davis – Bitches Brew: 40th Anniversary Collector's Edition 3xCD+DVD+2xLP (Sony Legacy)
This super-deluxe edition offers the original album on CD plus an audiophile vinyl pressing on two LPs; previously unreleased material including extensive live performances of much of the same music including a DVD of the entire Copenhagen performance from November 4, 1969. Also included is a 48-page 12"x12" book, memorabilia envelope, and large fold out poster.
The Walkmen – Lisbon CD/LP (Fat Possum)
Lisbon was recorded over the course of eight months beginning in the fall of 2009 with You & Me producer Chris Zane (Passion Pit, Les Savy Fav, Tokyo Police Club). The band then traveled to Dallas to finish the album with producer John Congleton (St. Vincent, Explosions In The Sky).
Grinderman – Grinderman 2 CD/LP+CD (Anti)
Grinderman 2 combines the structured invention of their live performance and the unrestrained free for all of their studio improvisation. Available in Regular and Deluxe editions. Deluxe comes in a heavy card sleeve with an expanded 56-page booklet and poster.
Of Montreal – False Priest CD/2xLP+MP3 (Polyvinyl)
Teaming up with Grammy-nominated producer Jon Brion (Kanye West, Fiona Apple), Of Montreal's mastermind Kevin Barnes traveled to famed Ocean Way Recording (Michael Jackson, Ray Charles, Frank Sinatra) to record False Priest, his self-professed masterpiece. False Priest is speaker-rattling heavy on the low end and features appearances by Janelle Monáe and Solange Knowles (Beyoncé's sister). Double vinyl edition includes large format 20-page book.
Weezer – Hurley CD (Epitaph)
Fueled by a newfound sense of independence, Hurley finds the band making some of the most powerful and adventuresome music of their storied career. Available in Regular and Deluxe editions. Deluxe edition adds four bonus tracks. Vinyl version due 9/28.
Black Mountain – Wilderness Heart CD/LP (Jagjaguwar)
New album packed with succinct rock songs that pulse and pound with startling precision.
Blonde Redhead – Penny Sparkle CD/LP+MP3 (4AD)
Blonde Redhead's third album for 4AD was made over the last year with the band journeying between New York and Stockholm to work with production duo Van Rivers and The Subliminal Kid (Fever Ray, Massive Attack) and as with their previous album, 23, Alan Moulder (Depeche Mode, My Bloody Valentine, Yeah Yeah Yeahs) was enlisted to mix it.
Black Angels – Phosphene Dream CD/2xLP+MP3 (Blue Horizon)
New album is a fresh take on the neo-psychedelic movement they've been at the forefront of for years.
Dungen – Skit I Allt CD (Mexican Summer)
At ease with effervescent pop, third-eye popping psychedelia, heavy rock, spider-web folk and breezy jazz, Dungen's dynamism astounds throughout Skit I Allt.
Justin Townes Earle – Harlem River Blues CD/LP+MP3 (Bloodshot)
Perfect for late Indian summer nights, Earle's new album features guest appearances by Paul Niehaus of Calexico, along with Jason Isbell and members of Old Crow Medicine Show.
Junip – Fields CD/3xCD/2xLP+CD (Mute)
Debut album from Jose Gonzalez fronted rock band. Their sound can be familiar to those who have listened to Gonzales's critically acclaimed records, but added to the mix on top of his nylon stringed guitar and distinctive voice are organs, synths and drums. Deluxe three-disc edition adds two early EPs.
Chromeo – Business Casual CD/LP (Atlantic)
After their sophomore release, Fancy Footwork, pushed them into the stratosphere of party-rocking, club-banging, and heart-thrilling electro funk, we might consider Business Casual their postgraduate work. Available in Regular and Deluxe editions. Deluxe contains four bonus remix tracks. Also available on opaque white vinyl.
The Drums – The Drums CD/LP (Downtown)
This band entered 2010 as one of the most tipped acts in the indie rock world. '80s inspired mope-pop ala New Order, and The Cure.
Black Milk – Album Of The Year CD (Fat Beats/Decon)
Far from a melancholic work, Album Of The Year once again sees Black Milk working to break new ground in hip-hop production, and to both refine and redefine his sound.

CDs:
Absence – Enemy Unbound CD (Earache)
New from the Tampa, FL metal band.
Accept – Blood Of The Nations CD (Nuclear Blast)
Thunderous riffs, blinding guitar leads, aggressive vocals and infectious, undiluted metal songs from the veteran hard rockers.
AIDS Wolf – March To The Sea CD/LP (Skin Graft)
AIDS Wolf was birthed into the heady days of Montreal's millennial music scene. Unlike most of the local units finding fame out in the world beyond Quebec, AIDS Wolf push an abrasive, unforgiving and rather unwieldy sound around North America in a battered van.
Amely – Hello World CD (Fearless)
A bouncy blend of spirited rock spiked with a healthy dose of power-pop influence, Amely has defined their sound by creating eight timeless tracks in the vein of pop-rock dynamos such as All American Rejects and Jimmy Eat World.
Trey Anastasio Band – Tab At The Tab CD (Rubber Jungle)
Recorded live on February 27, 2010 by Trey Anastasio Band at the legendary Tabernacle in Atlanta, GA, TAB At The Tab includes live renditions of classic TAB songs and numerous new compositions.
Atrocity [Feat. Yasmin] – After The Storm CD (Nuclear Blast)
New album from the German metal band featuring A-list singer Yasmin.
Azure Ray – Drawing Down The Moon CD/2xLP+MP3 (Jagjaguwar)
Nearly seven years after the acclaimed Hold On Love, Orenda Fink and Maria Taylor deliver more dream pop with visceral balladry and the duo's famed bittersweet melancholy.
The Bad Plus – Never Stop CD/LP (E1 Entertainment)
The Bad Plus' first album of all-original material is strictly an instrumental affair. From gentle and melodic to fierce and abstract, from swing to '80s techno, Never Stop is a kinetic playground of new sounds.
Banner Pilot – Resignation Day CD/LP (Fat Wreck Chords)
Banner Pilot have remixed and remastered their debut album in hopes of capturing the sound they had originally envisioned. The end result maintains a nearly impossible balance between unbridled youthful energy and maturely crafted unforgettable melodies. Includes two bonus tracks.
Bilal – Airtight's Revenge CD/LP+MP3 (Plug Research)
A mix of jazz, hip-hop, soul, blues, and experimental free music.
The Birthday Massacre – Pins And Needles CD (Metropolis)
Combining their interests in various musical and artistic styles, The Birthday Massacre create a captivating hybrid of '80s electronica with aggressive guitars, curiously fused with cinematically dark melodic progressions.
The Black Pacific – The Black Pacific CD/LP+MP3 (Side One Dummy)
New project led by former Pennywise vocalist Jim Lindberg.
Michelle Branch – Everything Comes And Goes CD (Reprise)
Everything Comes And Goes represents Branch's first project since she enjoyed her first country smash with Stand Still, Look Pretty by The Wreckers, the duo with which Branch made an inspired vocal and songwriting collaboration.
Cyrus Chestnutt Trio – Journeys CD (Jazz Legacy Productions)
Documents the trio's five-year international working history. "An orchestral command of the keyboard and a sophisticated sense of swing." — People
Chocolate Genius Incorporated – Swansongs CD (One Little Indian)
"…he spreads his gutter poetry across a bed of low-key grooves, odd synths and shifting textures." — Pitchfork
Cloud Cult – Light Chasers CD (Rebel Group/Earthology)
A concept album that interweaves stories focused on the exploration of the mysteries of the universe, life and death. It's a 56-minute journey that explores love and loss and searches for the light at the end of the tunnel.
Leonard Cohen – Songs From The Road CD/2xLP (Columbia)
Complete performances of previously unreleased renditions of twelve of Cohen's most famous songs from his recent world tour performances.
Combichrist – Never Surrender CDEP (Metropolis)
New single from the forthcoming album Making Monsters (due 9/28). Features remixes by IAMX and Melt.
Crocodiles – Sleep Forever CD (Fat Possum)
Drums and organ whirls envelope you on tracks like "Mirrors" and "Sleep Forever," which nods to Ladies & Gentlemen-era Spiritualized as much as they do Neu! and The Velvet Underground.
Dawn Of Ashes – Genocide Chapters CD (Metal Blade)
New from the extreme metal band.
Death Angel – Relentless Retribution CD/CD+DVD (Nuclear Blast)
New from the thrash metal band — available in Regular and Deluxe editions. Deluxe Edition includes a DVD featuring a "making of the album" documentary, band interview, studio footage and more.
Will Downing – Lust, Love And Lies (An Audio Novel) CD (Peak Records)
An "audio soap opera," complete with intermittent vignettes of intimate conversations that help move the story along. Includes elements of comedy, tragedy and all the subtle shades in between.
Electric Sunset – Electric Sunset CD/LP (K Records)
Electric Sunset is a distillation of ambient music into spiky pop songs with loud synthetic percussion and muscular basslines.
Elf Power – Elf Power CD/LP (Orange Twin)
A dozen-song sonic totem that represents the group's spiritual endurance and continued relevance as the flagship band of the celebrated psych-rock scene they helped forge over a decade and a half ago.
El Guincho – Pop Negro CD (XL)
A blend of Afrobeat percussion, psych tropicalia, trance repetition, steel drums, and much more, Pop Negro will transport you to an island paradise that no one has ever been to but that everyone knows exists somewhere in our collective music minds.
Eluvium – Leaves Eclipse The Light CDEP (Temporary Residence)
Features the stunning opening track from Similes, plus a remix of "The Motion Makes Me Last" by Four Tet.
Sully Erna – Avalon CD (Universal)
Debut solo album from Godsmack frontman/singer/songwriter Sully Erna.
Brandon Flowers – Flamingo CD/LP (Island)
Debut solo effort from Killers frontman — available in Regular and Deluxe editions.  Deluxe features two bonus tracks, two remixes, expanded booklet and poster.
Chilly Gonzales – Ivory Tower CD (Arts & Crafts)
From the stark finger click intro, swiftly joined by the layers of piano and Gonzo's "Never Stop" vocal refrain, we are taken on a deft and addictive journey that builds into an acidic Euro pop crescendo.
The Gracious Few – The Gracious Few CD (EMI)
The Gracious Few are comprised of Live bassist Patrick Dahlheimer, drummer Chad Gracey, guitarist Chad Taylor and Candlebox frontman Kevin Martin and guitarist Sean Hennesy.
Marquis Houston – Mattress Music CD (Music Works Entertainment)
"I think as an artist, with every album you make it's all about what kind of mood you're in at the time. And with this album I was in a sexual, passionate mood. I'm a very passionate man, so it's only natural that my music have a lot of passion as well," Houston expresses.
James – The Morning After The Night Before 2xCD (Mercury)
The Morning After has an intuitive, low-key "campfire" feel featuring some of the saddest, darkest lyrics Tim Booth has ever come up with, and The Night Before takes James' knack for uplifting songs about insecurity, disaffection and mental illness to a new level.
Joan Of Arc – Cassette Box Set 10xMC+MP3/FLAC (Joyful Noise)
Cassette-only release! This box set contains every full-length album from 1997-2009 in cassette format with high quality MP3 and FLAC audio files for each album included.
Jamey Johnson – The Guitar Song 2xCD/3xLP (Mercury Nashville)
25-song, double album with thematically linked sets of songs dubbed the Black Album and the White Album.
King Crimson – The Collectable King Crimson Volume 5: Live In Japan 1995 – The Official Edition 2xCD (Discipline)
The 5th release in this Collectable series features the expanded audio taken from the original concert used for the band's Deja VROOOM DVD.
Les Savy Fav – Root For Ruin CD/LP (French Kiss)
For some Root For Ruin will signal a return to the rawer energy evidenced on their earlier recordings. It's clear by the tracks on the album that the guys are enjoying their own legacy. Many songs carry the torch for some of the band's first influences. Still, it's not nostalgic. This is not stylistic pose or aesthetic conceit — it's the real deal.
Linkin Park – A Thousand Suns CD/CD+DVD (WB)
Limited Edition CD+DVD includes a "making of the album" documentary and "The Catalyst" music video.
Charles Lloyd Quartet – Mirror CD (ECM)
Mirror is the first studio album by the Lloyd-Moran-Rogers-Harland unit and it features beautiful, transformed versions of favorites including both Lloyd originals and tunes Charles has made his own over the years, including some Thelonious Monk covers.
Lordi – Babez For Breakfast CD (The End)
"We are very proud of this album," says Mr. Lordi. We went back to the basics and beyond. The new material is more rocking and melodic, but we have not forgotten horror elements either. This is the first time we have worked with a string orchestra and a gospel choir."
Majeure – Timespan 2xCD (Temporary Residence)
Merging the darkness of Vangelis' Blade Runner-era Moog-driven scores and the stately minimalism of Steve Reich and Philip Glass with the relentless drive of Can and Silver Apples, Majeure delivers inspiring sci-fi disco of the highest order. Includes a bonus album of remixes by Steve Moore (Zombi), Justin K. Broadrick (Jesu) and Black Strobe.
Major Organ And The Adding Machine – Major Organ And The Adding Machine [Reissue] CD+DVD (Orange Twin)
This expanded version of the album includes a DVD of the accompanying film packed with new bonus videos, including Neutral Milk Hotel live at The Knitting Factory, a new Apples In Stereo video, live show footage from Hawk And A Hacksaw, and more.
Megafaun – Heretofore CD/LP (Hometapes)
A mini-album and Megafaun's third release in as many years, is yet another articulation of the bands evolved Americana vernacular.
Mice Parade – What It Means To Be Left-Handed CD/LP (Fat Cat)
Part children's cartoon, part career retrospective. All over the map and awash in color; splashes of West-African highlife mingle with Flamenco, Brazilian Jazz, and the late '80s indie rock that band founder Adam Pierce was stuck on in high school.
Kenny Neal – Hooked On Your Love CD (Blind Pig)
Multi-instrumentalist and modern swamp-blues master Kenny Neal serves up an inspired set that draws musically from the sizzling sounds of his native Louisiana.
Pantera – Cowboys From Hell [Reissue] 2xCD/3xCD (Atlantic)
20th anniversary remastered edition available in two editions. Double disc includes rare live tracks, while the triple disc adds bonus demos.
William Parker – I Plan To Stay A Believer: The Inside Songs Of Curtis Mayfield 2xCD (AUM Fidelity)
Highly regarded bassist/composer William Parker interprets the mighty Mayfield songbook with an equally mighty eight-piece band.
Arvo Pärt – The Very Best Of Arvo Pärt 2xCD (EMI Classics)
EMI Classics honors monumental Estonian composer Arvo Pärt's 75th birthday with a double-disc release of his best loved works.
Robert Plant – Band Of Joy CD (Rounder)
Building on the roots-imbued sound he achieved with Alison Krauss on the wildly successful Raising Sand, Plant's song selection and incomparable vocals make Band Of Joy a new triumph. Vinyl edition due 10/26.
Plastikman – Kompilation CD (Minus)
"Hits" collection from the minimal techno pioneer.
Porcupine Tree – Recordings CD (K-Scope)
Nine tracks including recordings from the Lightbulb Sun sessions, rare UK singles tracks and an extended version of "Even Less."
Prince Rama – Shadow Temple CD (Paw Tracks)
New on Animal Collective's Paw Tracks imprint. An ethereal chorus of voices and anthemic melodies create a reverb-washed mine of sonic artifacts drawing from southeast Asian rituals, krautrock legacies, chopped and screwed homages, hallucinatory operas, and dance hall psychedelia.
Puscifer – "C" Is For (Please Insert Sophomoric Genitalia Reference Here) CD/12" (Puscifer Entertainment)
Physical release of previously download-only EP now available. The 12″ vinyl version features two bonus tracks. All songs written and composed by Maynard James Keenan.
Puscifer – Sound Into Blood Into Wine CD (Puscifer Entertainment)
A twelve-song collection of Puscifer tracks which accompany the recently released documentary Blood Into Wine.
Steve Reich – Double Sextet/2×5 CD (Nonesuch)
Double Sextet — which won the Pulitzer Prize in 2009 — is performed by Eighth Blackbird, who commissioned the piece. The Philadelphia Inquirer said of a recent performance by the ensemble, "Double Sextet is… among the finest pieces of our time… more than earlier Reich, it tips from exaltation to menace on a dime." Bang On A Can perform 2×5, which premiered last summer at a velodrome in Manchester, England.
Kim Richey – Wreck You Wheels CD (Thirty Tigers)
New album from two-time Grammy nominated singer/songwriter Kim Richey. Richey co-wrote Wreck Your Wheels with a mix of American and UK songwriters, including Mark Olson (Jayhawks), Will Kimbrough, Pat McLaughlin and Boo Hewerdine.
Steve Roach/Mark Seelig – Nightbloom CD (Projekt)
Prolific ambient innovator Steve Roach teams with Ph.D. shamanic practitioner/musician Mark Seelig to create a long-form piece of space-opening sound magic. Like the many fragrant and beautiful night-blooming plants which are host to mind-altering qualities, this 70-minute experience slowly blooms outwards with Mark's vocal harmonic and Tuva-style overtoning intertwining within Steve's zones and "terra" grooves.
Jason Simon – Jason Simon CD/LP (Tee Pee)
Debut solo album from the guitarist and singer for the seminal heavy psych band Dead Meadow. Some songs are filled with dark brooding drones; others leisurely carry the listener down meandering rivers as they slowly develop in their own unhurried way.
Trey Songz – Passion, Pain & Pleasure CD (Atlantic)
Songz' first new release since making the transition from rapidly rising young artist to bonafide R&B juggernaut.
Soulive – Rubber Soulive CD/LP (Royal Family)
Organ trio versions of classic Beatles hits. For fans of Greyboy Allstars, Medeski, Martin & Wood, The Roots, Charlie Hunter, and Jurassic 5.
Mavis Staples – You Are Not Alone CD/2xLP+CD (Anti)
Produced by fellow Chicagoan Jeff Tweedy at Wilco's studio The Loft, You Are Not Alone mixes traditional gospel numbers with two new songs written for Mavis by Tweedy, plus her unique interpretations of songs by Pops Staples, Randy Newman, Allen Toussaint, John Fogerty, Rev. Gary Davis and Little Milton.
Sun Ra – Heliocentric Worlds 3xCD (ESP Disk', Ltd.)
All three volume of Sun Ra's Heliocentric Worlds series reissued and collected in a single box.
Superchunk – Majesty Shredding CD (Merge)
Neither a return nor a departure, this telescopes two decades into 41 indelible, action-packed minutes. It is the sound of youthful exuberance fine-tuned with grown-up confidence. And it may very well be their best record yet.
Superpitcher – Kilimanjaro CD/3xLP (Kompakt)
"Of the formative sounds most associated with the epochal electronic-music label Kompakt, none has had as long a shelf-life as the zoned-out house of Superpitcher. Worthy competitors have crept up and either faded away (shuffling "schaffel" techno) or been assimilated so fully as to become part of the general dance-music weather (Wolfgang Voigt's minimalism, Michael Mayer's precision trance). But Superpitcher — nobody does what he does quite as well." [7.8] –Pitchfork
Tarja – What Lies Beneath CD/CD+DVD (The End)
Tarja (Turunen), the original singer of Nightwish, returns with her first album in almost three years. A veritable musical prodigy, a soprano singer-songwriter and composer, as well as a student of the world-renowned Sibelius Academy, Tarja effortlessly fuses metal, classical and pop/rock.
Underworld – Barking CD/LP (Om)
Underworld's first album in three years, and their first to be constructed with a brilliant cast of co-conspirators.
Valient Thorr – Stranger CD/LP (Volcom)
Produced, recorded and mixed by Jack Endino (Nirvana, Mudhoney, Dwarves, High On Fire), Stranger is Valient Thorr's fifth album in seven years.
Armin Van Buuren – Mirage CD (Ultra)
Mirage is the newest artist album from the internationally renowned DJ.
Various Artists – Black Sabbath: The Secret Musical History Of Black-Jewish Relations CD (Idelsohn Society)
The first attempt to gather the US history of African-American and Jewish relations into a selective pop musical guide moves from early performers like Slim Galliard singing about bagels and Cab Calloway mixing Yiddish into his hepcat dictionary of jive, to Sonny Berman making '40s bebop he called `'Beautiful Jewish Music," Johnny Mathis singing "Kol Nidre," and Aretha Franklin doing a '60s take on "Swanee."
Various Artists – 16 F**king Years Of G-Stone Recordings 2xCD (G-Stone)
G-Stone Recordings has been at the forefront of the European electronic music scene for 16 years now. This double disc collection is a celebration of that period and beyond. Featuring tracks by Kruder & Dorfmeister, Tosca, Peace Orchestra, Makossa & Megablast, Rodney Hunter and more.
The Vaselines – Sex With An X CD/LP (Sub Pop)
For their first album in over 20 years Eugene Kelly and Frances McKee are joined by Stevie Jackson and Bob Kildea (Belle & Sebastian), and Michael McGaughrin (1900s).
David S. Ware – Oncept CD (AUM Fidelity)
Here on tenor, stritch, and saxello with William Parker on bass and Warren Smith on drums and tympani, the songs were created fully in the moment of creation, trusting in collective skill to manifest the majesty (no rehearsal). An impeccable entry in the oeuvre of his works.
DVDs:
Eric Clapton – Crossroads Guitar Festival 2004 DVD (WB)
Eric Clapton – Crossroads Guitar Festival 2007 DVD (WB)
Unprecedented gatherings of dozens of the world's top rock, blues, country, jazz and folk guitarists featured artists such as Eric Clapton, Santana, ZZ Top, James Taylor, John Mayer, Joe Walsh, Robert Cray, Jimmie Vaughn, Robert Randolph, Eric Johnson, B.B. King, Buddy Guy, Jeff Beck, Robbie Robertson, Sheryl Crow, Derek Trucks and more. Special features include behind-the-scenes footage, artist interviews, alternate angle viewing capabilities, and much more.
Murder By Death – Live DVD (Murder By Death)
Celebrating 10 years of Murder By Death. Featuring a 13-song set filmed from the 2009 Desert tour, plus a bunch of old videos from shows 2003 to present.
Vinyl:
AIDS Wolf – Very Friendly 12" (Lovepump United)
A 12" crammed with some of the most important noise musicians of the past decade remixing their cover of Throbbing Gristle's "Very Friendly." Nightmarish kraut from Weasel Walter (Flying Luttenbachers); sparse, terrifying soundscapes from Wolf Eyes' John Olsen; searing noise and auto-tune from Baltimore legends Nautical Almanac; manic, pounding rhythms from Jason Forrest; and alienating, reverb-drenched skree from Cleveland's Emeralds.
The Animals – Animalism [Reissue] LP (Sundazed)
Stereo edition. No band channeled America's blues traditions with more intensity and ferocity. Driven by frontman Eric Burdon's brooding howl, The Animals embodied the darker side of the British Invasion.
Deftones – White Pony [Reissue] 2xLP (Maverick)
Vinyl reissue of Deftones' third album, originally released in 2000.
Ghostface Killah – Ironman [Reissue] 2xLP (Get On Down)
Reissue of the debut solo album, originally released in 1996. Though a solo album, it is filled with Wu-Tang collaborations, prominently featuring Raekwon and Cappadonna.
The Hollies – Hear! Here! [Reissue] LP (Sundazed)
Mono edition HQ-180 vinyl. A reworked — and, for many listeners, improved-variation on the original British LP known simply as The Hollies.
The Hollies – Here I Go Again [Reissue] LP (Sundazed)
Mono edition HQ-180 vinyl. Comprised largely of distinctive covers of American R&B and rock & roll classics.
Hot Chip – We Have Remixes 12" (Astralwerks)
From Todd Edwards' space age garage retake on "Hand Me Down Your Love" to Osborne's lounge house version of "Take It In;" Caribou's electro-acid fried reconstruction of "Brothers" to Hot City's deranged rave revival attack on "We Have Love," this release manages to pull together a selection of the very best dancefloor manipulators in the world right now.
Sonic Youth – Bad Moon Rising [Reissue] LP (Original Recordings Group)
Sonic Youth – Sister [Reissue] LP (Original Recordings Group)
Vinyl reissues of Sonic Youth's 1985 and 1987 albums.
The Stooges – The Stooges [Reissue] LP (Elektra/Asylum)
The Stooges – Funhouse [Reissue] LP (Elektra/Asylum)
Remastered vinyl reissues of The Stooges 1969 and 1970 albums.
Teenage Fanclub – Bandwagonesque 2xLP (Original Recordings Group)
First time available on vinyl in the US. The gold standard of the early '90s power pop revival, in its own way Bandwagoneque was as much a benchmark as contemporary records like Nevermind and Loveless.