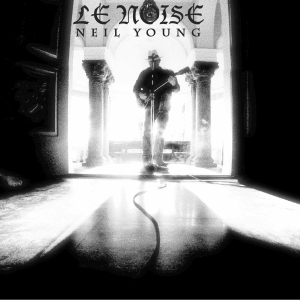 Neil Young – Le Noise CD/LP (Reprise)
Le Noise features Young on acoustic and electric guitars with producer Daniel Lanois adding his trademark sonic textures, creating one of the most sonically arresting albums Young has ever recorded. No band, no overdubs, just "a man on a stool and me doing a nice job on the recording," as Lanois puts it.
Deerhunter – Halcyon Digest CD/LP+MP3 (4AD)
Halcyon Digest is Deerhunter's fourth album and their first to be released on 4AD worldwide. The album was recorded at Chase Park Transduction Studios in Deerhunter's hometown of Athens, GA with the band self-producing and Ben Allen enlisted to mix it (he also worked on Animal Collective's Merriweather Post Pavillion). Also available on white vinyl with MP3 download.
David Bowie – Station To Station [Special Edition] 3xCD/Deluxe (Virgin)
Deluxe triple-disc reissue features the original album, previously unreleased Live Nassau Coliseum '76 concert, a 6-page booklet, and three postcards. Free ultra-limited Bowie t-shirt with purchase — while supplies last!
David Bowie – Station To Station [Reissue/Super Deluxe Edition] 5xCD+3xLP+DVD (Virgin)
Super Deluxe set features the original album, previously unreleased Live Nassau Coliseum '76 concert, DVD audio, a 1985 RCA CD master of the album, a 5-track singles EP, and tons of cool fan stuff including photos and paraphernalia along with a replica of a Bowie fan club membership card. Free ultra-limited Bowie t-shirt with purchase — while supplies last!
Aloe Blacc – Good Things CD (Stone's Throw)
The path from his debut Shine Through in 2006 to Good Things is akin to the maturation of Marvin Gaye between That's The Way Love Is and the What's Going On masterwork that followed. A definitive declaration that places Blacc directly in the framework of modern soul.
Abe Vigoda – Crush CD/LP (Post Present Medium)
Those who clocked Abe Vigoda's transition from 2006's angular-punk debut Kid City to 2008's startling tropicali-punk Skeleton should know the L.A. quartet aren't ones for repeating themselves. To Skeleton's hot-hot-hot template, they now add glassy shards of cold-wave pop, with synthesizers, sequencers and altogether broodier beats.
Bad Religion – Dissent Of Man CD/LP+CD (Epitaph)
Bad Religion celebrates three decades of influential, thought provoking and groundbreaking punk rock with a new album.
Eric Clapton – Clapton CD (Reprise)
Clapton touches on everything from century-old traditional brass bands to little-known country blues to brand-new originals, and features an all star cast of musical collaborations started with the legendary JJ Cale, drummer Jim Keltner, bassist Willie Weeks, and keyboardist Walt Richmond — and the sessions later added guests including Steve Winwood, Wynton Marsalis, Sheryl Crow, Allen Toussaint, and Derek Trucks.
Ben Folds/Nick Hornby – Lonely Avenue CD/LP (Nonesuch)
Words and music collaboration between Ben Folds and Nick Hornby. Also available as a Deluxe Edition, which includes four short stories by Hornby, and 15 images by acclaimed photographer Joel Meyerowitz, all in a hardbound, 152-page book.

CDs:
The 88 – The 88 CD (Rocket Science)
New album melds various influences raging from British Invasion-era bands to '70s glam and garage rock.
9th Wonder – Presents Big Remo: Entrapment CD (Traffic/The Orchard)
Big Remo represents the new school of rugged and raw Southern hip-hop.
August Burns Red – Home CD+DVD (Tooth & Nail)
Live show accompanied by a documentary on the band detailing life on the road and at home.
Buju Banton – Before The Dawn CD (Gargamel)
Recorded at the artist's own Gargamel Music studio in Kingston, Jamaica, Before The Dawn literally pierces the soul with traditional roots, easy rock and especially heartfelt reggae.
Barenaked Ladies – Barenaked For The Holidays [Reissue] CD (Raisin Records)
Features many holiday favorites, including "Do They Know It's Christ-mas"(written by Bob Geldof) and "God Rest Ye Merry Gentlemen," performed with Sarah McLachlan, and seven original tracks including "Elf 's Lament," featuring Michael Bublé.
August Burns Red – Home CD+DVD (Solid State)
Live album on CD and DVD.
Black Anvil – Triumvirate CD/LP (Relapse)
Triumvirate's assault is powerful, primal, and pure; capturing and channeling the spirit of metal s earliest trailblazers through a 21st century urban hostility.
Blank Tapes – Home Away From Home CD (White Noise)
Ten tracks of Kinks-meets-Creedence roots-rock & roll. Mastermind Matt Adams drifts between a destroying Lou Reed and a desolate Leonard Cohen.
Luka Bloom – Dreams In America CD (Compass)
Revered Irish singer/songwriter Luka Bloom looks back on his career in an interesting way — creating vibrant new versions of his most notable songs.
Breathe Owl Breathe – Magic Central CD (Hometapes)
A timeless aural cartogram of feeling, soul, skill, and story. You could have found it in the attic. It could have dropped from outer space.
Kenny Chesney – Hemingway's Whiskey CD/CD+DVD (RCA)
New album from the chart-topping, platinum-selling country rock superstar. Deluxe Edition includes two bonus tracks and an in-depth conversation with Chesney about each of the songs.
Cinema Red And Blue – Cinema Red And Blue CD/LP (What's Your Rupture?)
Cinema Red And Blue is a pop music collaboration between members of Comet Gain and Crystal Stilts, with guest appearances by Gary Olson (Ladybug Transistor), Hamish Kilgour (The Clean) and a host of others.
Clutch – Robot Hive/Exodus [Deluxe Edition] CD+DVD (Weathermaker)
Deluxe CD+DVD edition of this 2005 album featuring a bonus DVD containing an entire concert and the Jeremy Hunt-directed "Burning Beard" video clip.
Phil Collins – Going Back CD (Atlantic)
Going Back sees Phil Collins faithfully recreating some of his all time favorite classic soul gems, and features a tangible link to the past courtesy of performances from three members of legendary Motown session players The Funk Brothers.
Combichrist – Making Monsters CD (Metropolis)
Making Monsters is laden with hook-heavy choruses, speaker-crushing beats, and dark aggressive vocals.
Alice Cooper – Theatre Of Death: Live At Hammersmith 2009 CD+DVD (Bigger Picture)
The godfather of shock-rock Alice Cooper completed his 2009 Theatre Of Death world tour by filming the final show at London's legendary Hammersmith Apollo. This concert features many of Cooper's massive hits including "School's Out," "I'm Eighteen" and "Poison."
James Cotton – Giant CD (Alligator)
A ferocious blast of brash boogie blues. "Cotton blazes on harp with brilliant virtuosity." — Rolling Stone
Cradle Of Filth – Principle Of Evil Made Flesh [Reissue] CD (Caroline/EMI)
Cradle Of Filth – Vempire Or Dark Faerytales In Phallustei [Reissue] CD (Caroline/EMI)
Reissues of 1994 and 1996 albums by Britain's top dark metal band.
Dirty Projectors – Bitte Orca [Expanded Edition] 2xCD (Domino)
Deluxe version of 2009 album includes premium packaging and a bonus disc full of never before released material, hard to find B-sides and a brand new Bob Dylan cover.
Doobie Brothers – World Gone Crazy CD/CD+DVD/LP (HOR Records)
Founding members Tom Johnston and Pat Simmons are joined by longtime members John McFee and Mike Hosack on this new album, with special guests Michael McDonald and Willie Nelson. Deluxe Edition adds a 40-year DVD retrospective of the history of the Doobie Brothers, with rare photos and never seen footage, plus behind the scenes making of the album and video for "Nobody."
Jimmy Edgar – XXX CD/LP (!K7)
Musician, photographer and designer Jimmy Edgar is a wayward prodigy streaking across the cosmic dance-floor.
Electric Six – Zodiac CD (Metropolis)
The seventh Electric Six album is a record designed to appeal to signs of every persuasion. Just remember, in Electric Six's sky, every sign is compatible with you.
Enslaved – Axioma Ethica Odini CD (Nuclear Blast)
Enslaved are deeply rooted in the Norwegian black metal sound but have grown over the past decade into an almost unclassifiable and increasingly popular band without shirking their roots or trying to please anyone but themselves.
Fences – Fences CD/LP (CD Baby)
Chris Mansfield fancies himself a f**k-up. Through the ten songs that make up the self-titled full-length from Fences, the 27-year-old musician's band, the singer and songwriter sings, in his resigned baritone how he just can't seem to get it right love, life, family again and again.
Peter Gabriel – Birdy: Music From The Film [Reissue] CD (Real World)
Peter Gabriel – Passion: Music From The Film [Reissue] CD (Real World)
Peter Gabriel – Peter Gabriel 1 (Car) [Reissue] CD (Real World)
Peter Gabriel – Peter Gabriel 2 (Scratch) [Reissue] CD (Real World)
Peter Gabriel – Peter Gabriel 3 (Melt) [Reissue] CD (Real World)
Peter Gabriel – Peter Gabriel 4 (Security) [Reissue] CD (Real World)
Peter Gabriel – Plays Live Highlights [Reissue] CD (Real World)
Peter Gabriel – Shaking The Tree [Reissue] CD (Real World)
Peter Gabriel – So [Reissue] CD (Real World)
Peter Gabriel – Up [Reissue] CD (Real World)
Peter Gabriel – Us [Reissue] CD (Real World)
Reissues spanning 25 years (1977-2002) of Gabriel's acclaimed solo career.
Gin Blossoms – No Chocolate Cake CD (Savoy)
New album from the alt-rock band.
Glasser – Ring CD/LP+MP3 (True Panther Sounds)
Ring displays a newly rich vision of Glasser's post-pop sound. Laced with strings, woodwinds and simple, angelic vocal melodies, Ring has the universal lure of a lullaby and a hymn.
Grand Magus – Grand Magus [Reissue] CD (Metal Blade)
Grand Magus – Monument [Reissue] CD (Metal Blade)
Reissue of the Swedish stoner rock band's 2002 debut and 2003 follow-up.
Gucci Mane – The Appeal: Georgia's Most Wanted CD (Asylum)
The second album in a three-part trilogy, The Appeal: Georgia's Most Wanted features production from Swizz Beatz, Drumma Boy, Rodney "Darkchild" Jerkins, Pharrell, and Wyclef Jean, and guest appearances by Nicki Minaj, Bun B, Estelle, Ray J and more.
Half-Handed Cloud – As Stowaways In Cabinets Of Surf, We Live-Out In Our Members A Kind Of Rebirth CD (Asthmatic Kitty)
Connected with the lyrical tradition of 19th century American hymns such as "Shall We Gather At The River?" "Are You Washed In The Blood Of The Lamb?" and "There Shall Be Showers Of Blessing," these tunes splash about in cavernous spaces opened up by irregularly measured rhythms and pocket-orchestra arrangements integrated with creaky pianos, sound-loops, a tugboat of a church organ, guitars, and billowing banjos.
High Life – Best Bless CD/LP (Social Registry)
Five spectacularly infectious tunes from White Magic collaborator Sleepy Doug Shaw. Recorded in Trinidad and at London's legendary Southern Studios, Shaw is backed by members of White Magic, Gang Dance and Ariel Pink's Haunter Graffiti on a handful of these tracks.
Ice Cube – I Am The West CD (Lench Mob)
New album from the hip-hop star is a West Coast-themed affair.
If Wen – Take A Look At The Sea CD (Folkwit)
Widescreen nu-folk at its most heartbreaking. Sublime multi-tracked vocals soar over earthy finger-picked guitar with a melodic pop sensibility whose closest comparison is an extroverted Elliott Smith circa Figure 8.
Ingram Hill – Look Your Best CD (Rock Ridge)
Memphis' Ingram Hill would like to have it look as if their new album, Look Your Best was easy to create but lead singer Justin Moore says it was made with hard work, determination, and grit.
Jeremih – All About You CD (Def Jam)
New album from the R&B singer, songwriter, producer, and multi-instrumentalist.
Jimmy Eat World – Invented CD/LP+MP3 (DGC/Interscope)
Invented marks the band's first studio album since 2007's Chase This Light.
Lil Boosie – Incarcerated CD (Asylum)
With the controversy surrounding Lil Boosie's unexpected legal troubles and questions about his future, Incarcerated is intended to give an insider's look on what really went through Boosie's mind and what inspires him into his future.
Los Lonely Boys – Keep On Giving: Acoustic Live CD (Playing In Traffic)
Stirring acoustic renditions of hits, rarities, and new songs with special guests including Alejandro Escovedo and Carrie Rodriguez.
Nellie McKay – Home Sweet Mobile Home CD (Verve Forecast)
Home Sweet Mobile Home is McKay's first album of all-original material since 2007's Obligatory Villagers, and has the musical wanderlust, lyrical playfulness and sharp point of view that has characterized her music since her breakthrough debut Get Away From Me.
Moebius – Blue Moon OST [Reissue] CD/LP (Bureau B)
Reissue of Moebius' soundtrack to Blue Moon — originally released in 1986.
Alan Moore – Unearthling [Deluxe Edition] 3xCD+3xLP (Lex)
Unearthing is an audio and visual project uniting legendary comic book writer Alan Moore, award-winning photographer Mitch Jenkins, and a cast of high caliber musicians. This Deluxe Edition box set includes: 2xLP+2xCD audio book, a white LP+CD instrumental score, dot matrix printed transcript, photo portrait of Alan Moore by Mitch Jenkins, and a large poster.
Mushroomhead – Beautiful Stories For Ugly Children CD/LP (Megaforce)
New studio album blends rock, heavy metal, and soundtrack-worthy ambience.
Nails – Unsilent Death CD (Southern Lord)
Imagine a cross between the good AmRep bands of the '90s (Helmet, Hammerhead, Today Is The Day, Unsane) and Cro-Mags' Age Of Quarrel riffage played at breakneck speeds. Filthy, vicious and raw.
Negative Approach – Friends Of No One CD/LP (Taang!)
Six previously unreleased tracks from the last studio session 1984.
Neon Indian – Mind Ctrl: Psychic Chasms Possessed CD/2xLP (The Fader Label)
Includes all 12 tracks from Psychic Chasms plus 12 brand new bonus tracks (including remixes by Javelin, Yacht, Bibio, Toro Y Moi) and covers.
No Age – Everything In Between CD/LP+MP3 (Sub Pop)
No Age returns with more catchy pop covered in distorted tones, noise and samples. On Everything In Between the duo has pushed themselves in challenging and different directions, deconstructing their weird-out pop songs while still maintaining their original aesthetic and intent. Vinyl includes a 48-page book and MP3 download.
Nurse With Wound & Larsen – Erroneous: A Selection Of Errors CD/LP (Important)
Almost two years of file swapping ad occasional conceptual meetings led to a multi-headed collection of deformed sounds based on one long NWW piece and two Larsen tracks then deconstructed and rebuilt by each other into totally brand new opuses.
Nymph – Nymph CD (Social Registry)
Brooklyn-based psychedelic-shred/avant-garde outfit whose tempestuously transcendent music has been penetrating the New York music scene with bared teeth. Imagine 13th Floor Elevators essaying a Rahsaan Roland Kirk jam and you begin to get the picture.
Orchestral Manoeuvres In The Dark – History Of Modern CD (Bright Antenna)
On paper, this is the UK synth-pop pioneers' first new material since 1996, but in spirit it has more in common with the group's early '80s heyday.
Parlour – Simulacrenfield CD/LP (Temporary Residence)
Simulacrenfield rearranges the vision set forth in previous Parlour releases, utilizing the septet for all it's worth. The songs are tighter, heavier, and more melodically complex than ever before no doubt partly contributed to the addition of Jon Cook (Crain, Rodan) on drums, and Breck Pipes (Cerebellum) on guitar.
The Posies – Blood/Candy CD/LP+MP3 (Rykodisc)
The Huffington Post states, "depending on how you want to hear it, it's a brilliant return to form or a daring move forward." The almost entirely self-produced record boasts melodic hooks, provocative lyrics, and intricate layers of instrumentation that blend far-out, spacey sounds with sophisticated hues.
Pro-Pain – Absolute Power CD (Regain)
New album from the metal/hardcore outfit features guest appearances by Schmier (Destruction), Gionni Pontillo (Pure Inc.) and Inga Pulver (Pulver).
Refried Ice Cream – Witness To The Storm CD (Team Love)
Some of the adjectives that have been used to describe this eclectic band include: psychedelic blues, spacey jazz, rock with intellect, and a spiritually enlightening hypnotic jam.
Marc Ribot – Silent Movies CD (Pi)
Almost a polar opposite of his last release, Party Intellectuals, Silent Movies is mostly filled with gorgeously contemplative compositions performed solo, with minimal overdubs. The album reflects Ribot's fascination with movies and contains pieces intended to function as music for films.
Mark Ronson & The Business Intl – Record Collection CD (RCA)
Ronson is backed by The Business Intl — a group of over 30 musicians and singers from both sides of the Atlantic, including: D'Angelo, Boy George, Simon Le Bon, Nick Rhodes, Alex Greenwald, Nick Hodgson (Kaiser Chiefs), Ghostface, MNDR, Dap Kings, Spank Rock, Andrew Wyatt (Miike Snow), Rose Eleanor Dougall, Wiley and MC Pill.
Salem – King Night CD (Iamsound)
King Night evokes certain elements of ethereal shoegaze with production qualities akin to the frenetic delivery of contemporary Southern rap — at once menacing and serene.
Seal – 6: Commitment CD (Reprise)
Sixth studio album from the British vocalist.
Secret – Solve Et Coagula CD (Southern Lord)
Combines elements of crust/grind, primitive black metal, dark soundscapes and monolithic riffs to take the listener by the hand through a hallucinated trip towards a foggy and yet invisible tomorrow.
Kenny Wayne Shepherd Band – Live! In Chicago CD (Roadrunner)
Live at the House Of Blues in Chicago.
Slash – Slash [Deluxe Edition] 2xCD+DVD (Dik Hayd)
Deluxe Edition of Slash's recent solo debut comprises everything from the album's earliest demos, all the way through to live video footage from his release-show performance at The Roxy.
Sleeping – Big Deep CD (Victory)
"The Sleeping's fourth studio album is a big step up from their 2008 release, What It Takes. The album still has that sobering, mature feel to it that is in every Sleeping record but at the same time has a different sound weaved into it. The only way I can describe it as, is alt rock. The keyboarding in this record is particularly good and the band incorporates some orchestral instruments into a few songs." — Theinterlude.com
Soundgarden – Telephantasm CD/3xLP (A&M)
Career-spanning retrospective album includes beloved band hits, deep back catalogue cuts and the unreleased track "Black Rain," taken from the Badmotorfinger recording sessions.
Soundgarden – Telephantasm [Deluxe Edition] 3xCD+3xLP+DVD (A&M)
Individually numbered deluxe triple LP edition, with two CDs, a DVD, collectable poster and much more.
Adam Haworth Stephens – We Live On Cliffs CD/LP+MP3 (Saddle Creek)
New solo album from the lead singer and songwriter of San Francisco duo Two Gallants.
Three Mile Pilot – The Inevitable Past Is The Future Forgotten CD/2xLP (Temporary Residence)
Three Mile Pilot's first new album in 13 years. While Pinback and The Black Heart Procession were obviously influenced by 3MP in their early days, the inverse can now be heard, with many of the songs here bearing their unmistakable and inevitable stamps.
Today Is The Day – In The Eyes Of God CD (Relapse)
On their fifth full-length, Today Is The Day transcended metal and hardcore stereotypes, chiseling out 20 sonic sculptures from a primordial block of pure hate. Includes a live DVD.
Tom Tom Club – Genius Of Live CD (Nacional)
Features tracks from the album Live At The Club House as well as remix tributes to the hit "Genius Of Love."
Unearthly Trance – V CD/2xLP (Relapse)
With V the trio has come full circle; combining the expansive leanings of "Electrocutions" and "The Trident" with the sparing, brooding doom of their earliest works.
Various Artists – F**k Dance Let's Art: Sounds From A New American Underground CD (!K7)
This compilation's tracklisting looks like it was lifted straight from your RSS Reader, with heavily blogged acts like Balam Acab, Small Black, Toro Y Moi, Washed Out, Pictureplane, Memory Tapes and Bear in Heaven all lending some tunes. Hype bands of yore, like Animal Collective and Crystal Castles, also stop by with some of their more popular work.
Various Artists – Matador At 21 6xCD/2xLP+MP3 (Matador)
5 CDs of remastered songs from the label's history, plus a disc of unreleased recordings from the 10th Anniversary shows in NYC, 1999, packaged with 36 custom poker chips and an 85-page book. Also available as an abridged version on double vinyl.
Soundtrack – The Music Of DC Comics: 75th Anniversary CD (Water Tower)
Celebrates highlights of DC Comic's rich musical history including many rare theme songs that have never before been released, beginning with the theme song from Max Fleischer's Academy Award nominated Superman cartoons (1941) and moving on through the decades.
Joe Lewis Walker – Blues Conspiracy: Live On The Legendary Rhythm & Blues Cruise CD (Stony Plain)
Live recording including guests Johnny Winter, Tommy Castro, Duke Robillard, Kenny Neal, Tab Benoit and a dozen other notable blues artists.
Widespread Panic – Live In The Classic City II 2xCD/3xLP (ATO)
Double-disc live release from the American rockers, recorded during a three-night run that took place on April 1-3, 2000 at the Classic Center Theater in Athens, GA.
Abigail Williams – In The Absence Of Light CD (Candlelight)
Williams' second full-length album is mixed by Peter Tagtgren (Dimmu Borgir, Immortal, Celtic Frost) and features art from illustrator Farron Kerzner (Nachtmystium).
Women – Public Strain CD/LP+MP3 (Jagjaguwar)
On their debut self-titled album, Women embraced sonic brashness that deeper examination revealed to be tinted w/ sly pop melody. With Public Strain the band honed a sound truthful to that reverb-drenched noise while allowing the pop sensibilities to surface into clearer focus.
Liz Wright – Fellowship CD (Verve Forecast)
12-track gospel-tinged record features a number of traditional songs long held sacred by Wright alongside originals by guest performers Angelique Kidjo, Me'Shell Ndegéocello, Joan As Policewoman and social activist and songwriter Dr. Bernice Reagon, among others.
Yaz – Reconnected Live 2xCD (Mute)
Recorded in concert during the summer of 2008, Reconnected Live features classic tracks from Upstairs At Eric's and You And Me Both.
Pete Yorn – Pete Yorn CD/LP (Vagrant)
Yorn's sixth album — produced by Frank Black.
Rob Zombie – Hellbilly Deluxe 2 [Special Edition] CD+DVD (Roadrunner)
Features three bonus tracks and a reworking of "The Man Who Laughs," plus a DVD featuring a 30-minute tour documentary directed by Rob Zombie as well as the "Mars Needs Women" music video and "School's Out (Live)" with Alice Cooper.
John Zorn – Ipsissimus CD (Tzadik)
Nine new duos, trios and quartets swirling with melodic and rhythmic invention featuring Marc Ribot, Mike Patton and Zorn's manic sax with the Dunn-Baron rhythm section.
DVDs:
Airborne Toxic Event – All I Ever Wanted DVD+CD/Blu-Ray+CD (Island/Mercury)
Documentary film about their sold-out performance at the internationally renowned Walt Disney Concert Hall, featuring an eclectic mix of musicians and performers ranging from a children's choir, a world-class string quartet, a high school marching band, horn players, visual artists, and Mexican folkrico dancers.
Rush – 2112 + Moving Pictures DVD/Blu-Ray (Eagle Rock)
The latest addition to Classic Albums series tells the story behind the making of two legendary
albums from Rush. Includes over 50 minutes of additional interviews, archive footage and new demonstrations not included in the broadcast version.
Slipknot – (Sic)nesses 2xDVD (Roadrunner)
On June 13, 2009, Slipknot headlined the annual Download Festival in the UK, performing in front of 80,000 fans. The performance was absolutely electric, in typical Slipknot fashion.
Vinyl:
Animals – Animalism [Reissue] LP (Sundazed)
Out of print on vinyl for decades, this vintage gem is now available in a meticulously restored edition mastered from MGM's original stereo master tapes.
Avenged Sevenfold – Nightmare 2xLP (Hopeless)
Recently released on CD — now available on vinyl. Their first album since the death of drummer James "The Rev" Sullivan — Nightmare was produced by Mike Elizondo (Dr. Dre, Eminem).
Black Dub – Black Dub 2xLP (Jive/Red Ink)
Double vinyl version available early (CD due 11/2). Black Dub is the latest project from acclaimed musician and producer Daniel Lanois (U2, Bob Dylan, Brian Eno, Willie Nelson, Neil Young).
Cannibal Corpse – Bleeding [Reissue] LP (Plastic Head America)
Cannibal Corpse – Bloodthirst [Reissue] LP (Plastic Head America)
Cannibal Corpse – Butchered At Birth[Reissue] LP (Plastic Head America)
Cannibal Corpse – Gallery Of Suicide [Reissue] LP (Plastic Head America)
Cannibal Corpse – Kill [Reissue] LP (Plastic Head America)
Cannibal Corpse – Live Cannibalism [Reissue] LP (Plastic Head America)
Cannibal Corpse – Tomb Of The Mutilated [Reissue] LP (Plastic Head America)
Cannibal Corpse – Vile [Reissue] LP (Plastic Head America)
HQ-180 Back On Black vinyl reissues now available
Johnny Cash – At Folsom Prison [Reissue] LP (Sundazed)
Johnny Cash – At San Quentin LP (Sundazed)
HQ-180 vinyl reissues, mastered from the original stereo tapes.
F**ked Up – Year Of The Ox 12" (Merge)
The patient and building "Year Of The Ox" features Nika Rosa Danilova of Zola Jesus for a guest vocal passage and Toronto's string quartet, New Strings Old Puppets. "Solomon's Song", a gothic vampire love tribute to Twilight.
Buddy Guy – Living Proof 2xLP (Jive)
Save for a cover of Muddy Waters' "Country Boy," Living Proof follows the template of 2008's Skin Deep by featuring plenty of original material penned by Guy. CD version due 10/25.
Kid Rock – Born Free 7" (Atlantic)
New single from the forthcoming album of the same name, due 11/16.
Curtis Mayfield – Super Fly [Reissue] LP (Rhino)
Mayfield was best known for writing and producing the soundtrack to the film Super Fly, which (some trivia for you) is one of the few films ever to have been out-grossed by its soundtrack.
John Mellencamp – No Better Than This 2xLP (Rounder)
Recently released on CD — now available on vinyl. All new original songs recorded at a variety of historically significant locations around the South. Produced by T-Bone Burnett.
Nas And Damien Marley – Distant Relatives LP (VP Records)
Recently released on CD — now available on vinyl. The duo explores and celebrates the correlations and deep-rooted connections between reggae and hip-hop, tracing both sounds back to the African motherland.
Milton Nascimento – Clube Da Esquina [Reissue] 2xLP (4 Men With Beards)
Nascimento's 1972 album is named after the musical collective he helped to found in his Brazilian home state of Minas Gerais. Seamlessly combines bossa nova with soul, pop, jazz, psychedelic and classical influences.
Owen – Abandoned Bridges b/w I'm Always In Love 7"+MP3 (Polyvinyl)
Mike Kinsella (American Football, Cap'n Jazz) returns with two new songs: "Abandoned Bridges" and a cover of Wilco's "I'm Always In Love."
Owen Pallett – A Swedish Love Story 12" (Domino)
Pallett follows his critically acclaimed album Heartland with an EP of brand new material brimming with pop melodies, sweepings strings and joyous emotion. CD version due 10/5.
Serj Tankian – Imperfect Harmonies LP+CD (Reprise)
Recently released on CD — now available on vinyl. Imperfect Harmonies has shaped up to be as powerful and musically eclectic as its predecessor. Once again, Tankian's album takes a multi-themed approach to the lyrics, which he describes as addressing the political, environmental, social, and personal.
Various Artists – Afro-Beat Airways: West African Shock Waves: Ghana & Togo 1972-1978 2xLP (Analog Africa)
Deluxe gatefold double vinyl version, featuring two extra tracks not included on the CD.
Weezer – Hurley LP (Epitaph)
Recently released on CD — now available on vinyl. Fueled by a newfound sense of independence, Hurley finds the band making some of the most powerful and adventuresome music of their storied career. Available in Regular and Deluxe editions. Deluxe edition adds four bonus tracks.
XBXRX – O 7"+MP3 (Polyvinyl)
Departing from the improvised and experimental nature of their past two releases, this is straight up aggression.