With MGMT tonight and the Blues Festival on Sunday, just think how lovely Avila will be in the heart of summer, on the longest weekend day of the year (officially, the Solstice is on Monday, June 21st. Put your day off request in now). So what better way to spend the sunniest day than with sunny, vibrant music. The Summer Solstice Reggae Festival comes to Avila Beach Resort on Sunday, June 20th with Fat Freddy's Drop, the Dirty Heads, Alborosie, Still Time and Top Shelf. Tickets are on-sale now, here at Boo Boo Records or through Vallitix on-line. But we're offering you a chance to pencil in your calendar now by offering one lucky winner a pair of tickets. Hit more and scroll down to enter.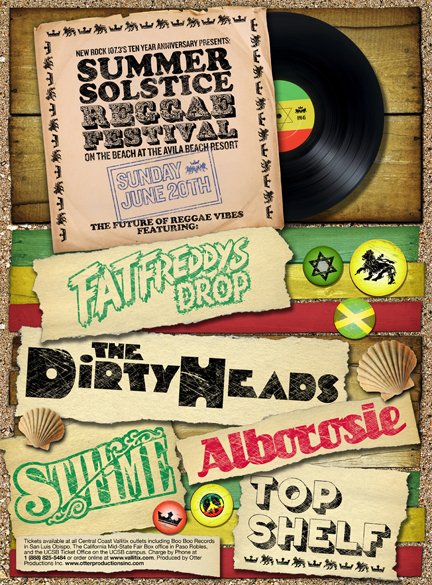 Fat Freddy's Drop
They've dubbed themselves "hi-tek soul," but Fat Freddy's Drop — featuring producer and leader Fitchie, vocalist Joe Dukie, saxophonist Warren Maxwell, trumpeter Toby Laing, trombonist Joe Lindsay, guitarist Tehimana Kerr, and keyboardist Iain Gordon — could just as easily be considered a modern reggae band that incorporates soul and dub. Prior to releasing their first album, 2005's Based on a True Story, they were already well-known in their native New Zealand; the album shipped gold and became the first independent release to reach number one on the country's chart. By the end of the year, the band had left an impression in several other countries, including England, where listeners of Gilles Peterson's BBC Worldwide program voted it as the Album of the Year. Lead singer Dallas Tamaira (aka Joe Dukie) has an airy, soulful voice that sometimes comes across like a more nimble version of Roland Gift's falsetto, while the band can shift with equal agility between house, dancehall, funk, and one-drop grooves, sometimes within a single track. There album is a hoot and a triumph.


Dirty Heads
Following in the footsteps of their California brothers Sublime, Huntington Beach's Dirty Heads mix hip-hop, reggae, and rock along with that laid-back, South Cali attitude. While those are the three main styles the group blend, they don't always use all three idioms in the same song. Jimi Hendrix and Stevie Ray Vaughan are even referenced in "Believe." Billy Preston appears on keyboards in one of the last sessions he recorded before his death.

Alborosie
Alborosie, born Alberto D'Ascola in 1977, is a reggae artist born in Marsala – Sicily, Italy, but now residing in Kingston, Jamaica. He is a multi-instrumentalist, being proficient in guitar, bass, drums and piano. His musical career began in the Italian reggae band Reggae National Tickets, from Bergamo city, when he was 15 years old in 1993, in which he was known as Stena. In 2001 Alborosie decided to try a solo career. He moved to Jamaica to be close to reggae music's roots and rastafari culture.[1] There, he started working as sound engineer and producer. He has also worked with artists like Gentleman and Ky-Mani Marley. His first solo album was called Soul Pirate. In the summer of 2009 he released his second album which was called "Escape from Babylon.

v