Straight Outta Long Beach! On the same day as their debut release for Sub Pop (Fleet Foxes, Postal Service, Shins), we are hosting an in-store with up and comers Avi Buffalo. They'll take our stage at 6pm on Tuesday, April 27th! The show is free and open to all ages. Listen Here: Avi Buffalo – What's In It For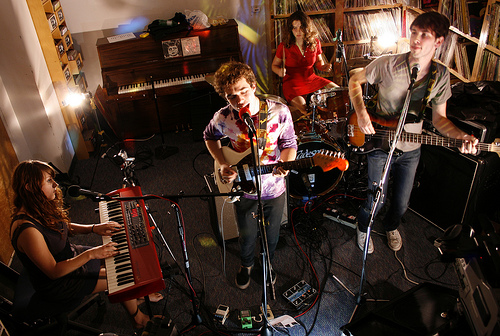 AVI BUFFALO
Avi Buffalo is the adopted name of 19-year-old Avigdor Zahner-Isenberg, also the moniker of the band that he and three of his friends began some three years ago while in high school. Together – somehow – they've managed to create an album full of the blissful haze of departed childhood and misspent youth, songs that evoke so precisely half-remembered summers and first loves that never existed, events and people in your life that never were, but which you can't help but remember.
It's very much a summer album, not just because of the (in)gloriously titled Summer Cum ("I got lost in your summer cum / Leave all your stains with me"), but because its songs glow with the warmth of that time of year. What's in It For? almost starts from where The Shins' New Slang left off, its surreal lyrics and falsetto vocals capturing the sense of a never-ending August night, albeit one imbued with teenage uncertainty. Then there's the lilting One Last, which captures the last vestiges of sunset, and the gentle erosion of innocence through experience on the lovely Can't I Know?
Throughout, Avi's vocals coalesce remarkably with those of keyboard player Rebecca Coleman, who was originally Avi's muse by way of an intense teenage crush. You can hear the tenderness of first love in their voices, which makes each song that much more fragile and brittle. Yet that frailty is strengthened by the band's glorious sunlit melodies and obtuse imagery, all of which combine to turn this into a truly remarkable album that's sad and wistful way beyond the band's years. [Read more…] about AVI BUFFALO In-store on Tuesday, April 27th at 6pm