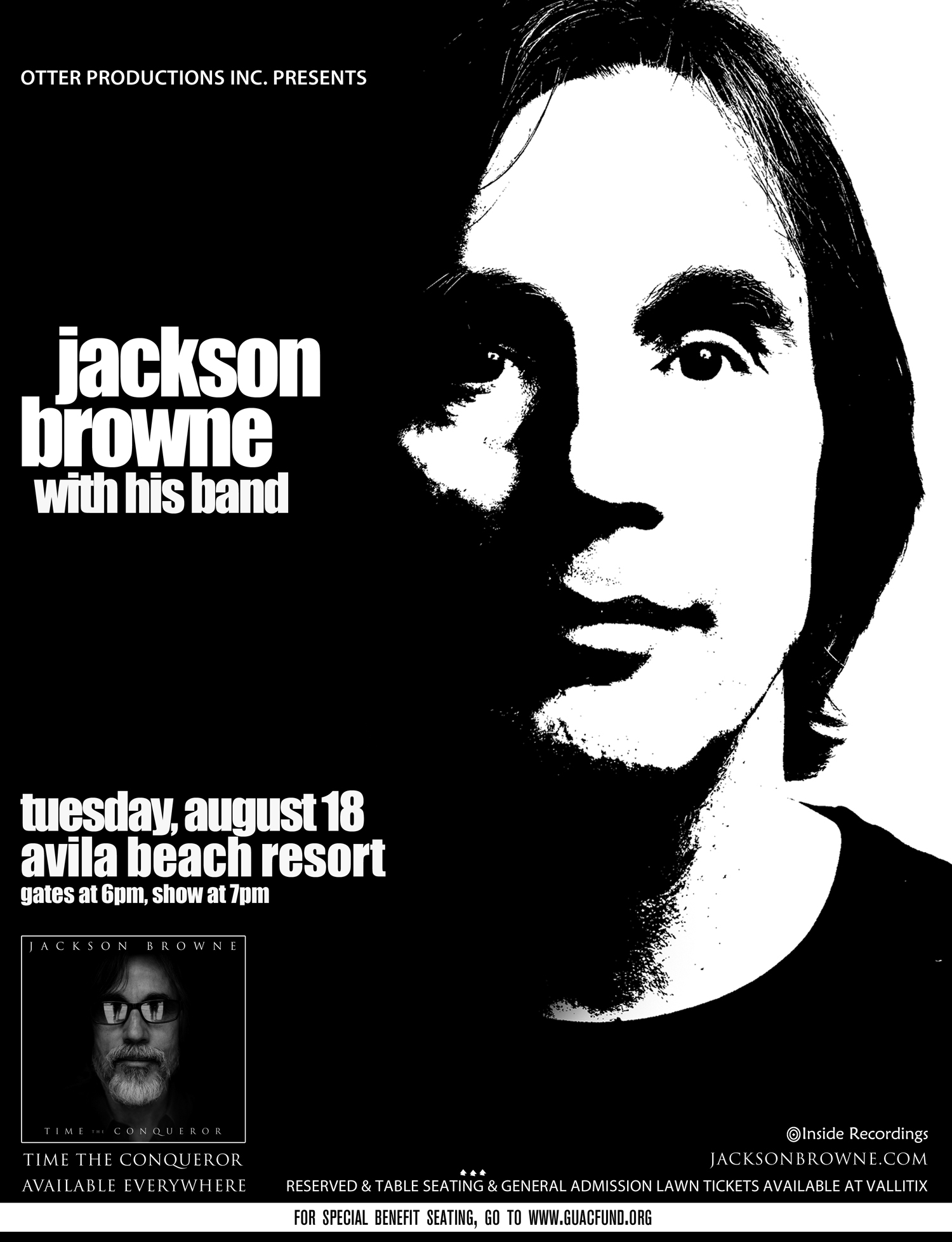 "Whether or not one appreciates Browne's recorded catalog is immaterial; his gift as  a songwriter is enigmatic, unassailable, and singular." – Thom Jurek, Allmusic Guide
With the summer waning into early darkness, it probably best to make the most of these remaining warm nights. Thus, this is a no brainer. Enjoy the relaxed lawn seating of a sunset concert with Jackson Browne as he plays with a band. The show is next Tuesday, August 18th. It starts at 7pm with no opening act,and with a curfew of 10pm, means you can still be home to catch the evening news. We're offering you a chance to win a pair of tickets. Scroll on down, and we'll pick a winner on Friday, giving you plenty of time to get Wednesday covered. Tickets are also available here at Boo Boo Records as well as at the door.
JACKSON BROWNE
In many ways, Jackson Browne was the quintessential sensitive Californian singer/songwriter of the early '70s. Only Joni Mitchell and James Taylor ranked alongside him in terms of influence, but neither artist tapped into the post-'60s Zeitgeist like Browne. While the majority of his classic '70s work was unflinchingly personal, it nevertheless provided a touchstone for a generation of maturing baby boomers coming to terms with adulthood. Not only did his introspective, literate lyrics strike a nerve, but his laid-back folk-rock set the template for much of the music to come out of California during the '70s. With his first four albums, Browne built a loyal following that helped him break into the mainstream with 1976's The Pretender. During the late '70s and early '80s, he was at the height of his popularity, as each of his albums charted in the Top Ten.
In 2004, the two-disc The Very Best of Jackson Browne hit the shelves as Browne was being inducted into the Rock and Roll Hall of Fame by fellow Hall of Famer Bruce Springsteen. Around this time Browne took to the road and played intimate acoustic shows around the globe. The 2005 release Solo Acoustic, Vol. 1 was compiled from these concerts and appeared on Inside Recordings, an independent label founded by Browne. Solo Acoustic, Vol. 2 appeared in 2008, while an album of new material, Time the Conqueror, followed later in the year.
All Ages. (7 and under admitted free in Lawn Seating only when accompanied by paid adult.)
Rain or Shine. Please no outside food or beverages. No pets.