Every year, Boo Boo Records packs up the van and takes the shop on the road to the Live Oak Music Festival. We've had close ties with KCBX over the years, and it's nice to be at their annual festival, supplying music and having the artists come by our booth and meet their audience. This year, we're offering one lucky entry a pair of full day Sunday passes. If you've never been, here's a great chance. Sunday night ends with soul legend, Mavis Staples, but the day also features The Wailin' Jennys, soul-jazz guitarist Will Bernard along with local act Sparrow's Gate. We've had a stellar year thus far, with Record Store Day and getting a nice nod from Rolling Stones as one of the best record shops in the country. Here's our chance to offer a little thanks and praise to our customers. A winner will be selected on Tuesday, June 14th. Enter below.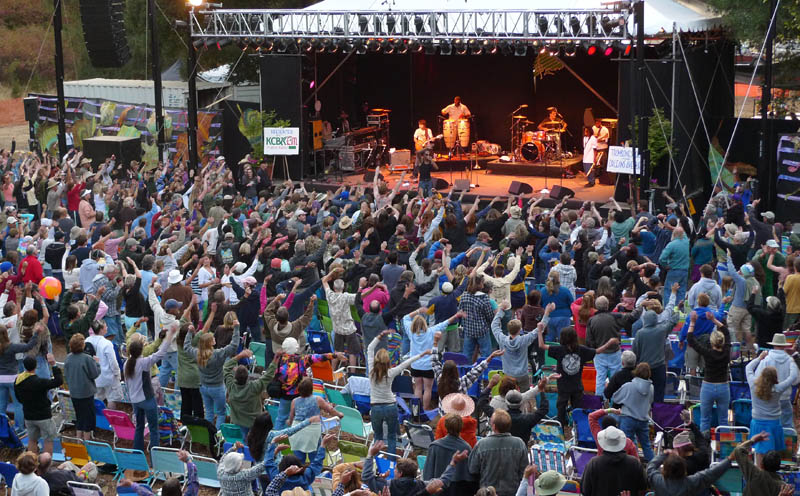 The Live Oak Music Festival is a three day concert and camping event held every year on Father's Day weekend in the hills above Santa Barbara, California. 100% of Live Oak proceeds go to support KCBX Public Radio!
Live Oak, as it has become affectionately known, is more than just a music festival — it is an experience rooted in music and community. These two elements together create a three-day journey into a timeless place that is far removed from ties and clocks, suits and schedules. The festival features an aural collage of live music ranging from traditional, folk, bluegrass and gospel, to blues, jazz, classical and world music.
Nestled in the oak trees of the quiet Santa Ynez Valley, Live Oak comes alive as an outdoor music festival showcasing some of the finest musicians from around the world. The camping experience at Live Oak creates a community of several thousand friendly people that are all doing the same thing — relaxing and having fun in the warm sunshine of June.