Just before the release of their second album, Antics, Interpol played on the top deck of a ferry, under a near full moon, in San Diego. Their music matched the night; darkly noir and vividly cinematic. Easily one of the best shows I've seen. Now, Interpol come to the UC Santa Barbara Events Center on Friday, February 4th. Don't miss this show!! Plus, we're offering one lucky winner a chance to win a pair of tickets. Scroll down for more details…
Nederlander & ASPB Present…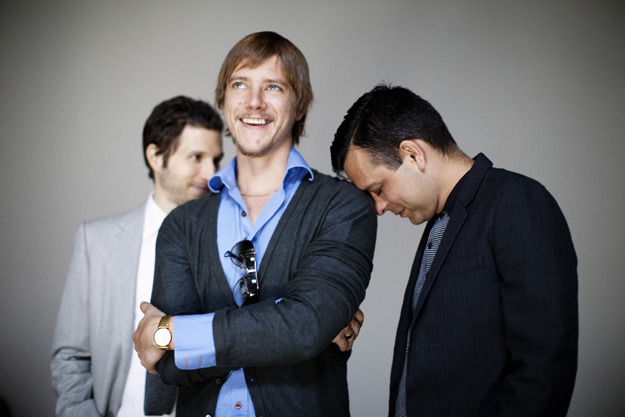 INTERPOL with opening act: SCHOOL OF SEVEN BELLS
Critically acclaimed, NYC indie-rockers Interpol will perform at the UC Santa Barbara Events Center on Friday, February 4th in support of their latest release, the self-titled Interpol. School of Seven Bells (Benjamin Curtis of Secret Machines & Alejandra Deheza of On!Air!Library!) will open the show.
Interpol hit the national scene with 2002's Turn on the Bright Lights" and have been seducing ears ever since with their richly atmospheric music. Their fiercely awesome sound, combined with striking visual presentation, has taken Interpol from small East Village bars to arenas worldwide, without losing the tension and complexity that have made them such an enigmatic, rewarding band. In September 2010, Matador Records released Interpol's fourth studio album, the self-titled Interpol. From the highly melodic "Barricade" and "Lights" through the snarling "Memory Serves" and the extraordinary triptych of connected tracks that close the album, Interpol have never made work this emotionally resonant or packed with crescendos. Hypnotic, bizarre, always indelible, Interpol is the band's magnum opus.
[Read more…] about CONTEST: Interpol at UC Santa Barbara Events Center on Friday, February 4th!