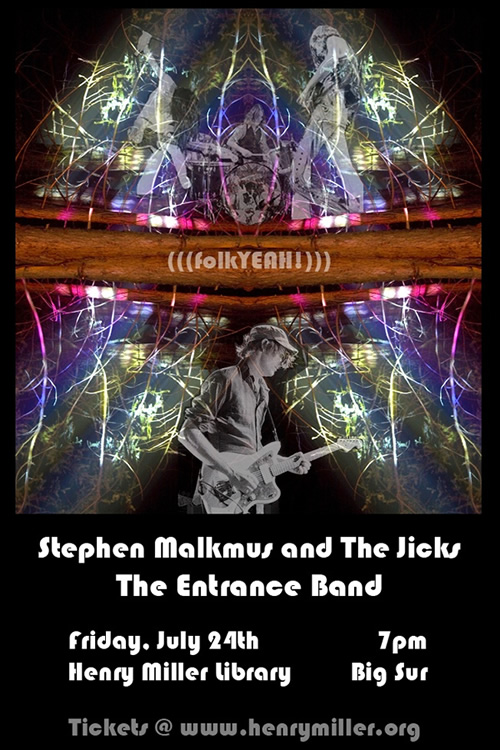 The (((Folk Yeah))) collective have been curating amazing shows all summer. So good, they even nabbed "Hottest Promoter" in the Rolling Stones recent Hot List 2009 issue. Now, they are bringing one of California's indie-rock legends to the Central Coast. Stephen Malkmus will be performing this Friday, July 24th at 7pm at the Henry Miller Library in Big Sur. Opening will be the heavy blues-punk of Entrance.
A solid line-up from start to finish, and a perfect chance to escape North for a pleasurable weekend starter. We'd also like to give two lucky people a chance to win a pair of tickets. Enter in and we'll be picking a winner on Thursday afternoon.
Scroll down the page for your chance to win 😀
Stephen Malkmus
Stephen Malkmus' solo career (formerly of Pavement) seems to be settling into a pattern of alternating between skewed, spiky pop albums bearing his lone credit and long, languid collections of jams with the Jicks — as 2005's Face the Truth belonged to the former category and its 2008 follow-up, Real Emotional Trash, fits neatly into the latter. That's not to say that this is a retread of the lazily intriguing, formless Pig Lib. Where Pig Lib wandered aimlessly, adrift on its insular guitars, Real Emotional Trash is focused and propulsive, even if the band invariably circles around a point instead of tackling it directly.
Perhaps some of this precision is due to the presence of former Sleater-Kinney drummer Janet Weiss as the Jicks' new anchor — she grounds them and pushes them harder, giving Malkmus a solid foundation he's never quite had either in Pavement or on his own — but Malkmus also sounds clear-headed here, as any new father of two should be. He's shed the haziness that plagued Pig Lib, yet he's still intoxicated by the sounds he can make, usually with his guitar but also with his mouth, as his words have never sounded so much like a fanciful collection of sounds, each syllable bouncing off the next in the melody.
Entrance
Guy Blakeslee is the brainchild behind the kitschy rock sound of Entrance. Blending threads of glam like T. Rex with Big Star/Cheap Trick-styled pop hooks, Entrance offers something more tangible compared to Blakeslee's days spent working with the Convocation Of… in Baltimore. As a resident of Chicago, Entrance became a regular performer at the Hideout, a local bar that hosted a Monday night cabaret with Zwan's Matt Sweeney. For 18 months, Entrance honed his soulful indie rock.
On his recent album, Prayer Of Death, although there are acoustic moments the singer/songwriter/multi-instrumentalist (he plays everything except drums and violin) creates a heavily reverbed, ominous and very spooky sound to convey his bleak, blues-noir vision. Credit conspirator Paz Lenchantin who co-produces and adds eerie violin, vocals, and bass to the already skin-crawling proceedings. Those familiar with Jeffrey Lee Pierce's work with and without the Gun Club will immediately recognize the similarity in Blakeslee's wailing vocals. Add a touch of Jack White and the overall effect is chilling.
The album's title sets the mood as does the opening track "Grim Reaper Blues." Nearly every tune is flooded with lyrics of death, dying and existential loneliness, or at least music that conjures up that feeling, set against a swirling, psychedelic whirlpool of sound. Think Phil Spector meets the Cramps and you're approaching the nearly overwhelming onslaught of haunting despair and gloom. Blakeslee has created a hypnotic if relentlessly depressing concept album that gets under your skin and stays there. Hearing it alone with the lights out is sure to be a mesmerizing experience.