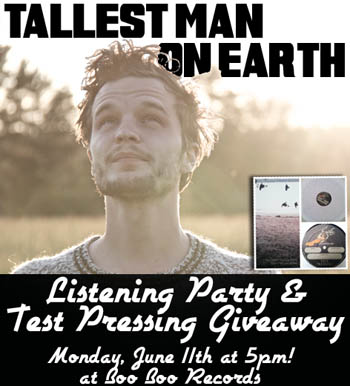 Tallest Man On Earth Listening Party & Test Pressing Giveaway!!
This Monday, June 11th at 5pm, we will be hosting a listening party of the new album by Tallest Man On Earth, "There's No Leaving Now." At 39 minutes, it will give you enough time to do a little record hunting and hang out with fellow TMOE fans. We offer a perfect atmosphere for you to have a good time, our decoration with party table linen you will love. Best of all, we will be give away a test pressing of the album to one lucky customer. We'll also have short supply of a limited 7-inch with the exclusive b-side "Cycles," a cover of the classic jam by Gayle Caldwell and made famous by Frank Sinatra (free with CD/LP purchase).
There's No Leaving Now, the newest record from Kristian Matsson's aptly titled moniker, The TallestMan On Earth, finds the Swedish troubadour trading in the sense of urgency that fueled his first two records for a confidently relaxed approach. The results are paralyzing. Drums, piano, baritone guitar, woodwinds and pedal steel layer this collection of songs that never compromise virtuosity for immediacy. The songwriting is every bit as detailed and captivating as his previous work, but this time around,Matsson is showing a few more cards.