Smoke Out Tour: Slightly Stoopid / Cypress Hill / Mickey Avalon / Living Colour on Friday, October 15th @ Pozo Saloon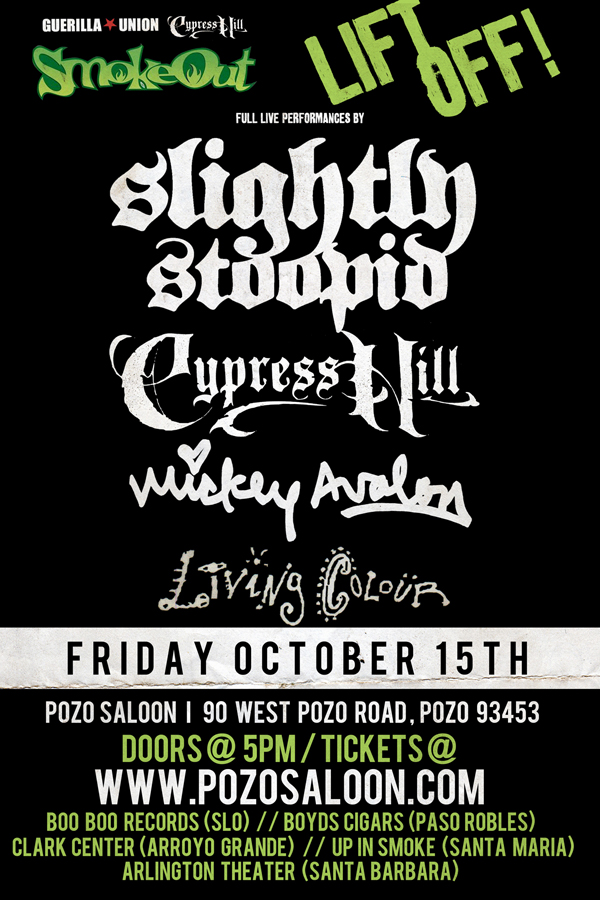 Kicking off a double duty weekend, Pozo Saloon is planning on lifting you up. A quadruple billing, each of these acts could easily headline festivals across the globe, and have. This Friday, October 15th, you have the chance to see them all in the glorious green pastures of the Pozo Saloon. You'll be amongst friends, a community of like-minded music lovers with nothing on their mind except a good time. Roll on out there and witness a spectacular evening in California's golden land. Better yet, here's your chance to score a pair of tickets. Click continue to enter. A winner will be picked on Friday at noon.
Slightly Stoopid
Slightly Stoopid's Miles Doughty and Kyle McDonald were signed to Sublime mastermind Brad Nowell's Skunk imprint while still in high school, and did two albums for the label, Slightly Stoopid in 1996 and Longest Barrel Ride two years later. While the sound back then was SoCal skatepunk influenced by thrash elements and copious amounts of weed, Doughty and McDonald's playing and singing had matured considerably by 2001 and Live & Direct: Acoustic Roots. The duo was later rounded by drummer Ryan Moran and percussionist/vocalist Oguer Ocon. By 2003 and Everything You Need, they were rocking a California-centric sound of loopy sampledelic pop, hip-hop influence, sunny marijuana affirmations, and the occasional return to raucous skatepunk.
Cypress Hill
Cypress Hill were notable for being the first Latino hip-hop superstars, but they became notorious for their endorsement of marijuana, which actually isn't a trivial thing. Not only did the group campaign for its legalization, but their slow, rolling bass-and-drum loops pioneered a new, stoned funk that became extraordinary influential in '90s hip-hop — it could be heard in everything from Dr. Dre's G-funk to the chilly layers of English trip-hop. DJ Muggs crafted the sound, and B Real, with his pinched, nasal voice, was responsible for the rhetoric that made them famous.
Mickey Avalon
With a childhood rough enough to guarantee him rock star success, by the time he was out of his teenage years — at least according to the few details he's given — Mickey Avalon had sold pot (with his mother), been addicted to heroin and dope, worked as a graffiti artist in L.A., converted to Orthodox Judaism (his parents were both non-practicing Jews, and his paternal grandparents were survivors of Auschwitz), got married and had a daughter, prostituted himself for drug money, watched his father die, and found his sister's dead body. All of this gave ample material for his rhymes, which he started writing after his pal, the former MTV VJ Simon Rex, encouraged him to compose his own songs. Avalon, Rex (who rapped under the name Dirt Nasty), and Armen Melik (aka Andre Legacy) began recording and releasing their own material as the Dyslexic Speedreaders, an irreverent group that gave a satirical and often lascivious look into the L.A. club and drug culture. Avalon's stage presence, which mixed a kind of hyper- and often ambiguous sexuality akin to the trashy glam rockers of the '70s, gained the attention of DJ and aspiring manager Kev-E-Kev, who was soon helping Avalon hawk his self-titled CD — wrapped in a newspaper advertising adult services — on the streets.
Living Colour
During the 1980s, rock had become completely segregated and predictable, the opposite of the late '60s/early '70s, when such musically and ethnically varied artists as Jimi Hendrix, Sly & the Family Stone, and Santana ruled the Earth. But bands such as New York's Living Colour helped break down the doors by the end of the '80s, leading to a much more open-minded musical landscape that would eventually pave the way for future bands (Rage Against the Machine, Sevendust, etc.).
v