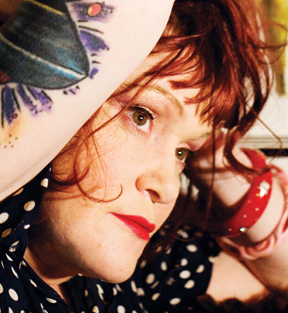 A legend of the California punk rock scene, Exene Cervenka has continued writing and releasing solo material for a quarter-century, with no sign of losing steam. With her latest release,2009's Somewhere Gone, Exene is giving back to her fans with a west-coast tour of independent record shops. On Friday, April 9th, she will take over our intimate stage and perform a free, all-ages concert. Exene's performance will begin at 5:30pm. After the performance, she will be doing a meet and greet, autographing her books and albums, so bring X memorabilia or anything you would love to get signed. Below is a quote from Exene on why she's doing this tour:
"The reason I am touring independent record stores from San Diego to Seattle this April is that I want to play for free, to people of all ages, at a reasonable hour, in a place we love to be. I'm touring at my own expense, because I don't want the economy to stand between my music and people that might want to hear it. Yes, I hope I sell some aprons and a few cds, but bring your X records, the kids, shop independent, and let's have a party! xo exene"
Review of Exene Cervenka's Somewhere Gone
As lead singer and lyricist with X, Exene Cervenka was (and is) one of the great firebrands of West Coast punk rock, fusing pure energy and a wild, unfettered eloquence in a way that was totally her own. But after X broke up for a while in the late 1980s, Cervenka recorded a pair of excellent acoustic-based albums, Old Wives Tales and Running Sacred, that proved she could express herself just as strongly without the speed and volume of her old band. After diving back into the fast-loud stuff with her bands Auntie Christ, the Original Sinners, and the reunited X, Cervenka has returned to acoustic music with 2009's Somewhere Gone, an album that fuses spare folk melodies that suggest she's been listening to the Harry Smith anthology with bittersweet country accents that somehow make Cervenka's lyrics cut even deeper. The socio-political insights that dominated much of Cervenka's music of the '90s and the new millennium are less obvious on Somewhere Gone, but as a lyricist Cervenka remains a keen observer of the human condition, and her beat-influenced lyrics reveal an intense honesty and emotional force in her sometimes abstract wordplay, while "Honest Mistake" is a story of love which refuses to go right that ranks with her best work with X. And this album is one of Cervenka's great moments as a vocalist, merging the sweet and sour sides of her voice while displaying a control and a gift for subtle detail that stands comfortably beside the best work of her career. Cervenka produced Somewhere Gone and plays simple but steady guitar on most of the tunes, with Jason Edge, Amy Farris, and Cindy Wasserman helping to flesh out the elemental but often lovely arrangements. Somewhere Gone is a different animal from Cervenka's acoustic music of the late '80s and early '90s, at once simpler, riskier, and more confident, and it captures one of the great wild talents of her generation in strong and impressive form, still unafraid to take her talent in new directions after more than a quarter-century of blazing trails.