STILL NEED PLANS FOR THE FOURTH? LOOK NO FURTHER!
"The Mother Hips, a Bay Area quartet, hooked up nearly twenty years ago at Chico State. A couple of record deals and sabbaticals later, they continue to deliver a romping strain of countrified psychedelic power pop laced with traces of Merle Haggard, Barry Gibb, and the Eagles. Tim Bluhm and Greg Loiacano, the songwriters and front men, know how to sing it sweet and play it dirty." -New Yorker Magazine
The Hips want to celebrate Independence Day with you! Gathering friends and family, they're taking over the Henry Miller Library in Big Sur and throwing two full day events, closing each night. We're offering two pair of full weekend passes. So no need to decide which day you want to see, cause the lucky winners will be seeing the whole affair. Enter below and check out the line-up. SOLID!
A winner will be picked Thursday morning.
Friday 3pm -11pm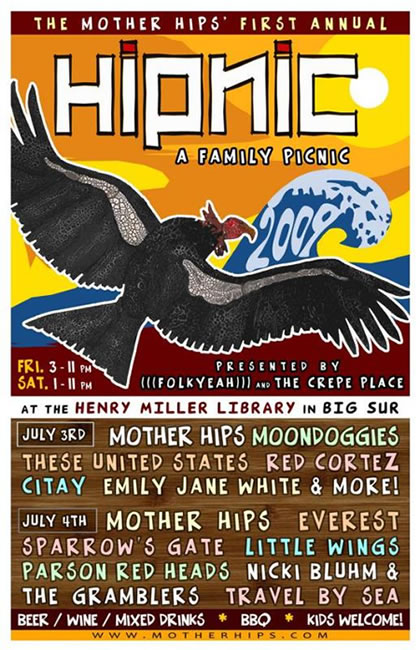 Emily Jane White
Citay
Red Cortez
These United States
Moondoggies
MOTHER HIPS
Saturday 1pm – 11pm
Chick Prophet
Nicky Bluhm and the Gramblers
Parson's Red Heads
Little Wings
Sparrow's Gate
Everest
MOTHER HIPS
+ more TBA
DJ sets
Tickets $25.00 per day or $45.00 (Save $$'s) for a two day pass plus venue fees.
Kids 10 years old and younger free! Call 831-667-2574
BBQ + FULL BAR + ALL AGES WELCOME