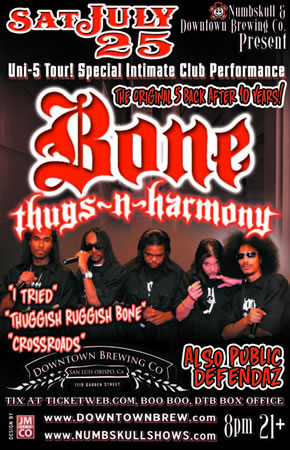 Back together again, with all original members  who specialized in interwoven, harmonious singing as well as rapping, Bone Thugs and Harmony are celebrating their reunion with a major tour. See them at Downtown Brew this Saturday, July 25th at 8pm with local act, the Public Defenders. We're giving you chance to win a pair of tickets. A winner will be picked on Friday, July 24th.
Graced with a quick, sometimes sung delivery, Bone Thugs-N-Harmony burst out of the Midwest in the mid-'90s with a pair of massive hits ("Thuggish Ruggish Bone" and "Tha Crossroads") along with a great album (E 1999 Eternal) and then quickly unraveled.
Eazy-E signed the group — initially comprised of Krayzie Bone, Wish Bone, Flesh-N-Bone, Layzie Bone, and Bizzy Bone — to Ruthless Records and released a debut EP, Creepin on ah Come Up (1994). The EP boasted "Thuggish Ruggish Bone," a conventional G-funk song with an unconventional array of Bone Thug rappers that became an overnight summer anthem, especially throughout the Midwest. Amid the fervor, the Cleveland rap group entered the studio immediately and emerged with a remarkable album, E 1999 Eternal (1995). The album topped the charts and spawned a pair of popular singles, "1st of the Month" and "Tha Crossroads," the latter a Grammy Award recipient.